The Erotic Ghost
(2001)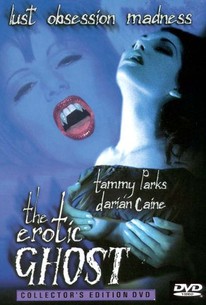 AUDIENCE SCORE
Critic Consensus: No consensus yet.
Movie Info
Another softcore romp from Seduction Cinema and director John Bacchus, this tale of otherworldly lesbianism stars Darian Caine from the director's Mistress Frankenstein and Gladiator Eroticus as a bored housewife who is seduced by ghosts all day while her husband is at work. First up is Penthouse Pet Tammy Parks in a fairly tame encounter, then Doris runs into a pair of devilish vixens in her basement (Victoria Vega, Jade DuBoir) in a fairly steamy threesome, and there is more to come. Much of the film's rather lengthy 103-minute running time is taken up by an unnecessary subplot concerning the tedious business life of Doris' husband, and there's also a gorilla involved. Seduction's assembly-line approach to cranking out softcore spoofs of various genre films led to titles like The Sexy Sixth Sense, Mummy Raider, and Erotic Survivor (not to mention Play Mate of the Apes) over the next few years. All of them starred the very watchable Caine, who has become to Bacchus what Lina Romay was to Jesus Franco in the 1970s.
Audience Reviews for The Erotic Ghost
½
Doris (Caine), a lonely, sexually frustrated housewife is driven insane by progressively more aggressive phantom lesbian sex-fiends. Meanwhile, her husband (Snygg) is having a hellish day at work. "The Erotic Ghost" is a pretty straight forward fusion of horror and softcore sex, with some rather lame attempts at humor thrown in. I would have enjoyed this film alot more if more time had been spent at the house with Caine's character and the sex-ghosts than at the office with husband and the obnoxious goofballs who work there. It might just be my taste in women, but the only two members of the cast who undress that I found even remotely attractive was Darian Caine and Debbie Rochon. The others looked too much like they had balloons strapped to their chests. Although mostly made as an excuse to present lesbian sex scenes, "The Erotic Ghost" still manages to present a few chilling moments, but they are few and minor. If you like lesbians, bad boobjobs (especially if you like lesbians with bad boobjobs in devil costumes), and lowbrow office humor, you'll probably love this film. Just don't expect any fancy camerawork, deep story, or decent acting (except from the women in the sex scenes... they do a fine job). The Erotic Ghost (aka "Sexy Scary Movie") Starring: Darian Caine, Tammy Parks, Debbie Rochon, Jade Duboir, Zachary Winston Snygg, and John Paul Fedely Director: John Bacchus
Steve Miller
The Erotic Ghost Quotes
There are no approved quotes yet for this movie.
Discussion Forum
Discuss The Erotic Ghost on our Movie forum!