Erotic Witch Project 2: Book of Seduction
(2001)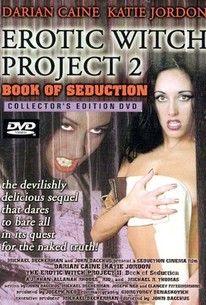 AUDIENCE SCORE
Critic Consensus: No consensus yet.
Movie Info
The companies behind Vampire's Seduction and the original Erotic Witch Project, Seduction Cinema and Ventura Distribution present this sequel to the straight-to-video softcore take on The Blair Witch Project. Released in 2001, Erotic Witch Project 2: Book of Seduction was written and directed by John Bacchus and tells the story of a young woman's erotic exploits in a mental hospital after the sensual powers of the Erotic Witch turn her into a lesbian with an insatiable appetite for sex. The film stars Darian Caine and Katie Jordan and is intended for a mature audience.
Rating:
NR
Genre:
Directed By:
On DVD:
Runtime:
Critic Reviews for Erotic Witch Project 2: Book of Seduction
All Critics (1) | Fresh (0) | Rotten (1)
'Erotic Witch Project 2' is an impostor, struggling to take the shape and form of at best, story-line pornography, and at worst, a credible lampoon of the unconventional storytelling techniques seen in the horror-thriller, 'Blair Witch Project 2'.
Audience Reviews for Erotic Witch Project 2: Book of Seduction
"The Erotic Witch" and its sequels are porn spoofs of the hit horror movie "The Blair Witch Project". They're pretty good if you like this sort of stuff. [b]The Erotic Witch[/b] Starring: Victoria Vega, Darian Caine, and Katie Keane Director: John Bacchus When three young women (Vega, Caine, and Keane) go into the trackless woods near Bacchcusville for some camping and investigation of the local legend of the Erotic Wtich, they find themselves gradually succumbing to strange magics that fill them with unbridled lesbian lust. "The Erotic Witch Project" is a fairly decent spoof of the suprise hit "Blair Witch Project" with lots of softcore lesbian porn scenes thrown in. It does a great job at being funny, sexy (if you're into lesbians that is), and even a little spooky at times. (The end of the film is actually creepier and more sensible than the end of "Blair Witch" [at least as far as the screening copy of "Blair Witch" I saw Way Back When. I've been told the ending that appeared in theatres was a bit more coherent].) One bizarre touch in the film is the "escaped gorilla" that's running around in the woods with the girls. While it gives an excuse for a second camera to shoot the action, it's otherwise a pointless addition. It did put me in mind of the cheap comedies and horror flicks from the 1930s; it seems there must have been some sort of regulation back then that stated every third movie had to feature a guy in a cheap gorilla suit. Decently acted and sporting a plot that serves as a little more than just getting us from lusty lesbian scene to lusty lesbian scene, this is definately one of the better offerings from Seduction Cinema. [b]The Erotic Witch Project II[/b] Starring: Katie Jordon, Darian Caine, and A.J. Khan Director: John Bacchus A tabloid reporter (Jordon) discovers that one of three girls who were believed to have vanished without a trace while searching for the Erotic Witch is actually confined to the Khan Institute for Mental Health. She infiltrates the facility in the hopes of getting an interview with her, but a careless nurse soon spreads the lesbian curse of the Erotic Witch to all women in the building. It's a sad commenary on the actual sequel to the "Blair Witch Project" that I felt like this film was closer to what a "Blair" sequel SHOULD have been. Having one of the original characters carry the Blair Witch curse and spreading it would have made for an excellent sequel instead of the third-rate, nonsensical trash that actually got made. As far as "The Erotic Wtich Project II" goes, the story is a bit thinner and goofier (aside from the neat idea of the Erotic Witch's curse serving as almost a sort of airborne virus) and here is basically a vehicle to get us from lesbian sex scene to lesbian sex scene. The softcore porn scenes frequent walk right up the line, but never cross it. And while the gorilla is back, a Russsian cameraman mostly serves as the picture's comic relief and explanation as for why there's a camera recording the proceedings.
Steve Miller
Erotic Witch Project 2: Book of Seduction Quotes
There are no approved quotes yet for this movie.