Escaflowne: The Movie
(2000)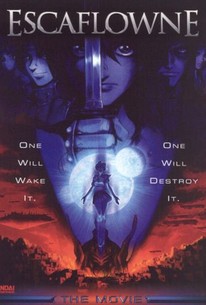 Movie Info
In this animé feature based on the popular Japanese television series, Hitomi is a high school student who is trying to come to terms with a severe case of depression. When her spirits are at their lowest, Hitomi makes a psychic connection with Van, the young king of the nation of Gaia, located on another planet visible in the night sky of Earth. Gaia has been brought to the brink of war by the evil Black Dragon Clan, and, while the nearby nation of Abaharaki wishes to form an alliance with Gaia for their mutual protection, Van is a leader who prefers to act on his own. Hitomi finds herself transported to Gaia, where she becomes a valuable if unlikely ally to Van; as the Black Dragon Clan advances, Van discovers that Hitomi may hold the key to the magical dragon armor of Escaflowne, the weapon that would make Gaia invincible. Escaflowne (also advertised as Escaflowne the Movie: A Girl in Gaia) features Kelly Sheridan as the voice of Hitomi; the voice cast for the American release version also includes Kirby Morrow, Brian Drummond, and Paul Dobson.
Critic Reviews for Escaflowne: The Movie
Audience Reviews for Escaflowne: The Movie
½
An anime fantasy thrill ride that is as brutal as it is elegant. From the truly impressive battles, to the beauty of the visual presentation, this one pleases the eye in the truest sense. Some western critics may not get it, but it's a great fantasy film for those who actually bother to see the film for it's true essence.
Viktor Berzinsky
Loved the ending to the OVA but still enjoyed the film, although Folken killed in the way he was just didn't do it for me...
Chris Browning
Super Reviewer
Escaflowne is the re-telling of the television series, "The Vision of Escaflowne". A depressed high school student named Hitomi wishes to just fade away and is magically sucked into a world called Gaea where they called her their Wing Goddess. Multiple forces are struggling against each other there for control of powerful dragon armor that the Wing Goddess is supposed to control so they have to try and win her favor as she has the power to save them or destroy their world entirely. Some of the rag-tag band she befriends includes a kitty-cat girl with a somewhat annoying voice and Van, the last of his kind that can wield a special power that runs in his genes. What I liked most about this movie were the action sequences, fighting over Hitomi and getting to see the dragon armor being used. When a person enters the armor, they have to give blood for it to work so they are pierced all over their body and blood drains from them. For me, I thought that was a pretty powerful way to make the inhabitants sacrifice something before they go running off with a suit that can bring about so much destruction. Having a high price to pay means not just anyone would jump in it. Hitomi is clearly depressed throughout and I'm not sure if she ever really overcame that. She said enough nice things to keep Van motivated and alive when he was hurt but I have this feeling that if she goes home to her own world, her outlook will not have changed. There was pretty music, the plot was occasionally confusing. I never felt emotionally involved or connected to any characters. Only when they were fighting did there seem to be something worth cheering for. It was ok for one watching, but not close to the best I've seen.
Gina Wagner
Escaflowne: The Movie Quotes
There are no approved quotes yet for this movie.
Discussion Forum
Discuss Escaflowne: The Movie on our Movie forum!