Turkey Shoot (Escape 2000)
(2008)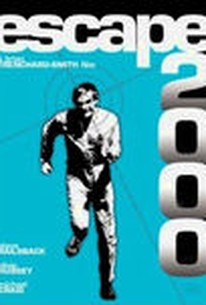 AUDIENCE SCORE
Critic Consensus: No consensus yet.
Turkey Shoot (Escape 2000) Videos
Turkey Shoot (Escape 2000) Photos
Movie Info
This grim, violent Australian production is an artless mishmash incorporating elements of The Road Warrior, 1984 , and The Most Dangerous Game. The story is set in a dystopian future society where all "deviants" (i.e. anyone whose ideas don't jive with those of the government) are interred in nightmarish re-education camps where they are tortured, beaten, raped and put to death -- mostly on the whim of the psychotic commandant (Michael Craig). Periodically, a handful of particularly defiant inmates will be released unarmed to be hunted down (for the entertainment of the elite) in a free-for-all "Turkey Shoot" (the film's original Australian title). Among the latest batch of potential targets are strong-willed Steve Railsback and Olivia Hussey, who are confronted in the wilderness by the commandant and his goofy mutant cronies -- all of whom carry rocket-launchers, exploding arrows, and flamethrowers. This entire exercise is basically a prolonged excuse for a plethora of cheap, splattery makeup effects, made far more unpleasant by the blatant sadism of the proceedings. Unsuspecting viewers exposed to this film may wish to follow with My Brilliant Career to restore their faith in Australian cinema. ~ Cavett Binion, Rovi
Critic Reviews for Turkey Shoot (Escape 2000)
There are no critic reviews yet for Turkey Shoot (Escape 2000). Keep checking Rotten Tomatoes for updates!
Audience Reviews for Turkey Shoot (Escape 2000)
½
Brian Trenchard- Smith is one of those directors that manage to make bizarre yet entertaining films. His films at times are so-so, as they tend to lack some real depth to make them truly entertaining. However, when he strikes on a successful formula, Smith can create something truly entertaining and bizarre. This ozploitation picture is one of his finest efforts, and one of the best examples of the genre at its finest as well. The plot is simple, yet off the wall action packed from start to finish. The film has a simple concept that works quite well to grab your attention, and for a low budget exploitation picture, this is very entertaining. I really enjoyed Turkey Shoot, and felt it was a terrific action film that was well directed and it was a film that kept you involved from start to finish due to its concept, action and the way it told its story. Of course the film is far from perfect, but aside from Dead end Drive-In, this is Brian Trenchard-Smith's strongest effort, and he knows how to craft something that is action packed, unique and eccentric when he's got some well thought out material, and that is the case with Turkey Shoot. The film's ideas are terrific, and will surely appeal to genre fans looking for a fun, entertaining action exploitation picture to watch. The cast here are good, never great and the direction is terrific, as I feel that Brian Trenchard Smith really gave his all on this film, and the results show on-screen. You won't find a better ozploitation picture than this, except maybe for Smith's other film, Dead End Drive-In. Well worth your time, if you love cinema from down under.
Brian Trenchard-Smith is one of the best AUSTRALIAN directors and now comes Turkey Shoot a 1982 thriller set in the future. Gory as hell and overacted to shit but i love australians and these types of films. Some nicely done sets and story. At the end i say see it if you can time down the road. Or if your a fan of chase films.
½
Australian made slasher/survival flick. Not so much horror, but has a few gruesome moments during the last 30 minutes. The other hour is fairly uneventful apart from Olivia Hussey's shower scene.
Turkey Shoot (Escape 2000) Quotes
There are no approved quotes yet for this movie.
Discussion Forum
Discuss Turkey Shoot (Escape 2000) on our Movie forum!