Essex Boys
(2000)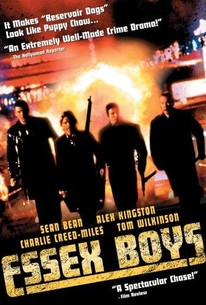 Movie Info
Terry Winsor directs this two-fisted tale of drug, guns, and murder based on a real-life gangland killing that left three dead in the snowy Essex backcountry. The film opens with cabby neophyte Billy (Charlie Creed-Miles) getting hired by suave drug baron John Dyke (Tom Wilkinson) to shuttle around recent ex-con Jason Locke (Sean Bean). Locke is a disaster waiting to happen; half-psychotic with a volcanic temper, he kills and disfigures without a second thought. Yet he takes a shine to his young driver and soon starts including him on his nefarious errands. Meanwhile, Locke arranges for his wife Lisa (Alex Kingston of ER fame) to call in a favor from Dyke and has the kingpin procure a shipment of ecstasy. Unfortunately, the E proves to be bad, hospitalizing scores of ravers and almost killing Locke. With his street rep trashed, the sociopath vows bloody revenge on his former partner, while Dyke and his lover Lisa plot Locke's demise.
Critic Reviews for Essex Boys
All Critics (6) | Fresh (1) | Rotten (5) | DVD (1)
...the sort of unoriginal gangster movie that seems to be far more prevalent now due to the success of fellow Brit directors like Guy Ritchie.

Audience Reviews for Essex Boys
Just bumped onto it, and couldn't simply miss it after knowing it's based on real events. Just can't help it. But it turned out to be an alright TP. While the story was okay, it's the acting that crushes the film. All the actors seemed to be on their worst. Sean Bean is an utter disaster. Charlie Creed-Miles excelled him by & large, but as the movie approached towards its culmination, even he's out in the competition of sucking. Fair fare.
familiar stranger
Super Reviewer
I was hoping for something similar to The Take but just ended up with this gritty, mean, (true) story about the murder of three British gangsters who, if this fictional retelling is to be believed, had it coming. Seriously, its impossible to sympathize with 98% of the characters in this film! And whenever someone gets double-crossed, I just shrugged. Not only was it predictable, it was fitting. This film was all right, but I would've liked to see "Neddard Stark" in a better light =D
Remi Logan
Super Reviewer
This film is a British gangster thriller that carries an added edge of realism with the police?s discovery of a Range Rover in an Essex wood containing three dead bodies riddled with gunshot wounds. Sean Bean plays the gangster and is convincing as the psychopathic Jason Locke combining ruthless violence with a preening narcissistic streak and Charlie Creed-Miles is the trainee chauffeur, Billy who works for the just-released con and his greedy backstabbing buddies. He is the innocent pawn that is unwittingly pulled into a situation above his head. Alex Kingston brilliantly portrays Jason?s vengeful wife, Lisa and as we learn later on, she is a woman not to be scorned and screws them all literally as well as figuratively with double crosses galore. The film is gutsy, violent, has nasty paybacks and a dark mood to it but I think it?s worth a view.
Essex Boys Quotes
There are no approved quotes yet for this movie.
Discussion Forum
Discuss Essex Boys on our Movie forum!