Eternal Blood
(2003)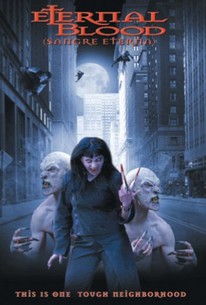 AUDIENCE SCORE
Critic Consensus: No consensus yet.
Movie Info
Carmilla (Blanca Lewin) ventures into a role-playing game with her lover M (Juan Pablo Ogalde) involving vampires and gothic rituals. When they meet Dahmer (Carlos Borquez), who lures them to his creepy lair, they learn the game is real, and so are the vampires.
Critic Reviews for Eternal Blood
There are no critic reviews yet for Eternal Blood. Keep checking Rotten Tomatoes for updates!
Audience Reviews for Eternal Blood
½
I had a lot of problems with this film...I didn't expect too much from it, but I still figured it would be a decent, 3 star film, which is what Netflix predicted I would rate it. Some of the problems are so annoyingly blatant, however, and as such, they detract noticeably from the overall quality of this film. First and foremost, most of the characters here are cardboard cutouts, especially the main villain, whose name alone (Dahmer) is meant to inspire terror. Only the female protagonist is spared from the shitty character development that infects the other characters. Also another major problem is that this film is WAY too confusing, especially, but not limited to, the ending (WHAT THE FUCK HAPPENED AT THE END OF THIS FILM? I HAVE NO IDEA, AND I WATCHED IT!!!). The film's earlier sequences are confusing because they mix the stupid role playing game that the characters play with reality, so you don't know what's going on for like the first half hour. This is not done in a cool, mindbending Inception way, but in an annoying, what the fuck just happened way (see what I said about the film's ending, rinse and repeat). My third major problem is that the second half of the film is very rushed, which is totally unnecessary because a lot of scenes throughout Eternal Blood are lengthy panoramic shots or long, drawn out scenes of people walking, I kid you not. Unless I'm mistaken, since this isn't that long of a film to begin with, this film could've easily thrown in another 15-20 minutes of story to better flesh out the plot.
Stephen Skudlarek
Super Reviewer
Might not be completely original, but the film is fun and it has some turning points I did not see coming. It also helps that they didn't went for the obvious ending.
Quinto Wallight
Super Reviewer
Eternal Blood Quotes
There are no approved quotes yet for this movie.