Ethan Mao
(2004)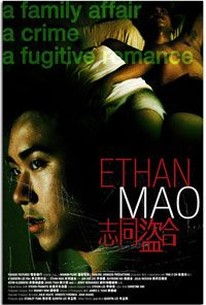 Movie Info
The product of a dysfunctional family takes unusual revenge on his parents in this drama. Ethan Mao (Jun Hee Lee) is a teenager living in a Los Angeles suburb with his straight-laced father (Raymond Ma), his new stepmother (Julia Nickson), his younger brother (David Tran), and his angry stepbrother (Kevin Kleinberg). Ethan has accepted his own homosexuality, but his father is not so understanding, and when he catches Ethan with a gay magazine, the youngster finds himself thrown out of the house. Ethan starts supporting himself as a street hustler, and moves in with Remigio (Jerry Hernandez), a drug dealer who develops a strong friendship with Ethan. On Thanksgiving Day, when his family is away, Ethan decides to break into his old house and recover a necklace that belonged to his late mother. Remigio decides to tag along, but before they can leave with the jewelry, the family unexpectedly comes home early. An argument breaks out and Remigio pulls a gun; moments later, Ethan and his friend are holding his mother and father hostage. Ethan Mao is the third feature from independent Asian-American filmmaker Quentin Lee.
Critic Reviews for Ethan Mao
Audience Reviews for Ethan Mao
Okay, so I'm behind, but catching up. Luckily, though, I caught this film after searching through gay themed thriller type movies, and had just about given up on anything worth turning the tv on for. For those critics that call it a B movie, well duh, it wasn't meant for wide release, but to tell a story, which it did in a very nice way. Sure, some dialogue burps, but overall well done for the fresh group of actors involved to tell this dysfunctional family story. Caught me very nicely by surprise! Well done.
mikel yates
½
In my opinion, this is an excellent drama about human relationships. It is typically categorized as a "Gay Movie" but the gay element is not really primary in this film. Much the same story could have been told if Ethan had been kicked out for drug use or religious views and had met a girl on the streets. The power of the story is in its exploration of character, relationship, and family. The script and direction are very good. The acting by its small cast is excellent. I would recommend it to anyone.
David Duncan
½
WOW, RT CRITICS! IT IS HARDLY THAT BAD! I AM MUCH MORE IN AGREEANCE WITH IMDB ON THIS ONE. IT IS FLAWED - THE ACTING CAN BE AMATEURISH AT TIMES, AND THE "IS IT REALLY HAPPENING? GOT A BIT OLD. BUT, CONSIDERING THE BUDGET, THEY DID A GOOD JOB. IT WAS SUSPENSEFULD INTERESTING.
James Higgins
Ethan Mao Quotes
There are no approved quotes yet for this movie.
Discussion Forum
Discuss Ethan Mao on our Movie forum!