Evangerion shin gekijôban: Jo (Evangelion: 1.0 You Are (Not) Alone) (Neon Gensis: Evangelion 1.01 You Are (Not) Alone)
(2007)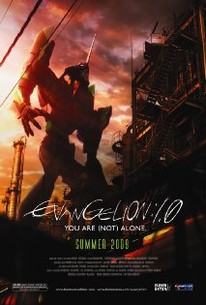 Movie Info
Evangelion 1.01: You Are (Not) Alone is the first installment in a film series known as the Rebuild of Evangelion that reinterprets the story first told in the critically acclaimed anime series Neon Genesis Evangelion. Covering the material from the first six episodes of the series, this film sets the stage when 14 year old Shinji Ikari arrives in Tokyo-3. His mother dead and his father painfully distant, Shinji is lonely, quiet, and wracked with torturous self-doubt. But Shinji's arrival in the city signifies his chance to prove himself as one of three teenagers chosen to pilot a series of technologically unprecedented robots called Evas, mysterious hybrids of man, spirit, and machine created to fight the unrelenting monsters known as Angels that continue to attack earth, one at a time. Thrown into battle before he's had so much as a day of training, Shinji's desperate need for his father's approval isn't helped by the pressure of the world's survival on his shoulders, or the difficult time he has living amongst the other pilots, who very strangely, have suffered the same losses that he has. Evangelion 1.01: You Are (Not) Alone directly follows the plot of the original series in some ways, but drastically diverges in others, focusing even more on the cryptic and symbolic nature of the story's religious themes. ~ Cammila Collar, Rovi
Rating:
PG-13 (for action violence and some nudity)
Genre:
, , , ,
Directed By:
Written By:
In Theaters:
On DVD:
Runtime:
Studio:
Critic Reviews for Evangerion shin gekijôban: Jo (Evangelion: 1.0 You Are (Not) Alone) (Neon Gensis: Evangelion 1.01 You Are (Not) Alone)
Audience Reviews for Evangerion shin gekijôban: Jo (Evangelion: 1.0 You Are (Not) Alone) (Neon Gensis: Evangelion 1.01 You Are (Not) Alone)
½
If you're a fan of the original anime series Neon Genesis Evangelion then you will not be disappointed with this reboot, at least not this first theatrical release. The series ran 26 episodes and had two films that were made to give fans more of a meaningful resolution than the finally two episodes of the series offered which was more of a psychological mash-up of Shinji's mind. The first film of these two was Death and Rebirth (1997) which has the first hour devoted to retelling the series primary plot points and the last half hour dedicated to new footage. This last half of Death and Rebirth make up the beginning half hour of what would be The End of Evangelion (Also 1997) and gives viewers a more tangible, albeit horrific, close to the series story and the character's fates. While the last couple episodes of the series were a psychological delve into Shinji's mind, The End of Evangelion is the outright devastating physical conclusion to the series and a harsh reality to accept. The first of the proposed four film rebuild of Evangelion, Evangelion: 1.11 You Are (Not) Alone is essentially an introduction to the characters and story line of the series and one that sticks very closely to the original series narrative. There are some slight differences in story and certainly the film boasts a much bigger budget and utilizes the advances in the decade or more since the earlier films and boasts both hand-drawn animation and the latest CGI blended together seamlessly and visually it is gorgeous to view! While I've seen it on Blu-ray and admired the quality, seeing it at my local cinema recently along with 2.22 and 3.33 in a three-film marathon was a totally engrossing and visually sensational experience unlike any other! The CGI involved really adds to the style and feel of the series and breathes new life into the proceedings, especially the angels and their functionality. This first film is condensed certainly but still does a fantastic job at capturing the many battles with the various angels but more importantly it clings to the psychological and humanity of the central story arc and it's Jewish and Christian symbolism all of which add dramatic and visual depth to the series and of course this/these films!
Chris Browning
Super Reviewer
It's hard to imagine that fans of Evangelion won't be pleased with this leaner, gorgeous rebuild of the original anime series. And if you're new to Evangelion, this is a great place to start. You Are (Not) Alone is a pretty straightforward adaptation of the first six episodes of Evangelion. It's somewhat condensed but still containing all the major moments and plot points. While the next three movies promise new story additions and characters, this movie contents itself with mostly cosmetic changes, along with tightening up the story, a few extra scenes, and eliminating some filler. There wasn't a lot in the first six episodes that needed to be altered. That means slightly less whining from Shinji. SLIGHTLY. The animation and visuals are outright beautiful, especially on blu-ray. I could recommend this on that aspect, alone. The re-designed Angels and action scenes are improvements over the original's (especially the sixth Angel), in my opinion and the voice work is great. Does You Are (Not) Alone make the original series redundant and unnecessary (or vice-versa)? No, I don't think so. Both of them have merit, and both are worth watching. But, I'm very interested in seeing if the next three Rebuild of Evangelion movies rectify some of the mistakes that the latter portion of the series fell prey to.
½
Tokyo-3 is under assault by mysterious robot-like creatures known as "Angels"; two teenagers pilot the bio-robots that are the only things that can defeat the invaders and save humanity, while simultaneously dealing with high school bullies. The mystical plot is barely hinted at in this first installment of an intended trilogy, but the story wouldn't make much sense anyway, because no one acts anything like an actual human being would in a similar situation; the plot and characters seem to be a necessary annoyance linking together pretty pictures.
Evangerion shin gekijôban: Jo (Evangelion: 1.0 You Are (Not) Alone) (Neon Gensis: Evangelion 1.01 You Are (Not) Alone) Quotes
There are no approved quotes yet for this movie.
Discussion Forum
Discuss Evangerion shin gekijôban: Jo (Evangelion: 1.0 You Are (Not) Alone) (Neon Gensis: Evangelion 1.01 You Are (Not) Alone) on our Movie forum!