Eva
(2015)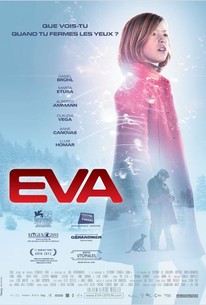 Movie Info
The year 2014. Humans live along with machines. Alex, a renowned cybernetic engineer, returns to Santa Irene to carry out a very specific mission for the Robotic Faculty: the creation of a child robot. During his ten-year absence, life has moved on for his brother David and Lana, who got her life back together after his departure. Alex's routine is altered in an unexpected way by Eva, Lana and David's amazing daughter. She is a very special, charismatic little girl. She and Alex have a special connection from the moment they meet. They set out on a journey together, which will bring them to a revelatory end. (C) Weinstein
Rating:
PG-13 (for some mature thematic material including disturbing images)
Genre:
, ,
Directed By:
Written By:
In Theaters:
Box Office:
$10,395.00
Runtime:
Studio:
Audience Reviews for Eva
The film opens with a scene of Eva's mother hanging from a cliff high in the mountains and falling down, followed by Eva running crying through the snow. "You can not program what you feel", it says on the movie poster. This review doesn't contain any spoilers, exactly, or at least not any more than which the film's creators gives away themselves. But, there you have it, you know exactly what will happen in the movie. The hint that this movie is about androids, which is anyway revealed after 2 minutes, gives away everything. I kept I was wrong the whole I watching, but in the end, I was right. The story follows exactly the plot line you would extrapolate from the opening scene and premise, and never deviates an inch. I thought maybe Eva is Alex daughter after all, which is hinted after 15 min, or so, but after a minute more we realize she is both that and the "hinted" identity. This is too bad. No, its really sad, because this would have been a fantastic movie would this. I hope Hollywood makes a new version, and corrects these fatal flaws. The final "revelation", is what we have all know since the opening sequence. Even so, this is actually a quite movie. Everything else, besides the obvious plot, is perfect. Production. Acting. Environment. Mood. Special effects. The creation of a society full of semi AI robots. The movie badly needed a rewrite before going into to production, and I am sure Hollywood, despite all its flaws, would have corrected it. Hollywood, at least Hollywood TV, have improved significantly the last few years. They would have made this much better. Look at Ex Machina, this would have been much "better". Still, please see it if you have time. It is after all, a quite ok Sci-Fi movie.
Andrew Hall
½
"Eva" feels like a cheaper version of "Ex Machina." Both are about AI and both feature a strong performance by at least one actor. In this case, that would be Daniel Bruhl who, in Spanish, delivers a heartfelt performance as an AI scientist on the verge of a breakthrough. Unfortunately, everything else about the film is haphazard, from his romance with his brother's wife, his relationship with Eva, his niece and possibly something more? It drags on, but Bruhl does manage to step up the drama, so it isn't a total waste of time.
Prentice Sargeant
a great movie that blends Sci fi, drama and some humor into a nice story. the fact the ending brings weird feels makes the movie that much more enjoyable. the main actor does great at being the shy, off social guy that has returned after a decade to his home town to work. special note is the girl that plays Eva who helps him throughout most the movie and opens him up a bit. not gonna say much else but it is a good watch and despite it having an NR rating there isn't anything in here really that doesn't say for all. worth a check.
Bill Regan
Eva Quotes
There are no approved quotes yet for this movie.
Discussion Forum
Discuss Eva on our Movie forum!