Evelyn
(2002)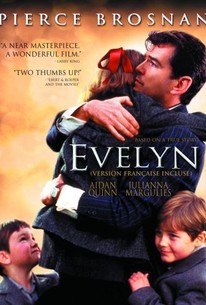 Movie Info
One man takes on the Irish family law system and the Catholic Church in a bid to be reunited with his children in this drama, based on a true story. In 1953, Desmond Doyle (Pierce Brosnan) was a house painter and decorator who, despite a strong work ethic, had a hard time holding on to steady work. Desmond's wife had grown tired of her marriage and her husband's financial problems, and one day walked away from her home, leaving Desmond to raise their three children on his own. While Desmond struggles to keep body and soul together for his children, his sporadic employment eventually attracts the attention of the law, and a court order sends his two sons and young daughter to separate Catholic orphanages until Desmond can prove he's capable of properly supporting them. However, Desmond discovers merely getting work is not enough to bring his children back to him, and when he learns that his daughter, Evelyn (Sophie Vavasseur), is having a rough time of it at the hands of several stern nuns, he becomes determined to win their custody in a court of law. Through Bernadette (Julianna Margulies), a barmaid who has caught his eye, Desmond meets Michael Beattie (Stephen Rea), a lawyer and Bernadette's brother. While Michael doesn't believe Desmond's case can be won in an Irish court, his partner Nick Barron (Aidan Quinn), an expatriate American who lost custody of his own children in a divorce proceeding, is eager to help, and they agree to take the case. However, they both realize they're fighting an uphill battle, and so they persuade Thomas Connolly (Alan Bates), a former football star who became one of Ireland's most respected barristers, to lend his knowledge and prestige to the case. Leading man Bronson also served a co-producer for Evelyn; Bruce Beresford directed, who previously collaborated with Pierce Brosnan on Mister Johnson.
Rating:
PG (adult situations)
Genre:
,
Directed By:
Written By:
In Theaters:
On DVD:
Box Office:
$1,341,151.00
Runtime:
Studio:
News & Interviews for Evelyn
Critic Reviews for Evelyn
Audience Reviews for Evelyn
I just love movies where one man stands against impossible odds.....it just proves that one man can make a difference in this world when everyone is against you. It has been proven over and over...Martin Luther King....Mother Theresa...and so on......with God ,,and Jesus nothing is impossible. Even though sometimes his answer to our prayers is NO.....but as long as we have faith that He Loves us. Just as a parent sometimes has to say no for our better good. ...I know this is more of a sermon than a review....so as the Beatles said "Let it Be"
Stephen Dirse
½
Tear jerker for sure and a good storyline and acting.
I don't, as it happens, think that parents actually do have an unalienable right to raise their own children. "Blameless" is not the word I would use to distinguish between those who should and those who shouldn't; no one is blameless. However, a distinction should be made between parents who abuse their children and those who do not. Clearly, Desmond Doyle (Pierce Brosnan) is of the latter. Oh, I'm none too fond of drunks raising kids, but I think it's obvious that Desmond was perfectly willing to quit if it meant that he could keep his kids. I also suspect that he drank more because his wife left. I don't know why she left; I don't think he knew. But of course, his drinking wasn't one of the reasons they took his kids away in the first place. You see, it used to be the law in Ireland that single fathers couldn't raise their own children without letters of permission from the mothers. (I believe the law was not intended to apply in the case of death, but I'm unable to find much information about it.) When Charlotte Doyle (Mairead Devlin) left her children on St. Stephen's Day in 1953, the law took her children and put them in an orphanage, and there was nothing her husband could do--she couldn't be found to write the letter, regardless of whether she would or not. (The real Desmond Doyle had six children, but the movie chooses to give us just three, presumably to keep it less complicated.) Eventually, the trial went to the Irish Supreme Court, where it would be determined whether or not it was the first law ever overturned as being against the Irish Constitution. I know people who went to Catholic school and claim that they are now scared of nuns. Certainly Sister Brigid (Andrea Irvine) was a nun to be feared. However, Sister Felicity (Karen Ardiff) was a kind, gentle soul who genuinely wanted the best for little Evelyn (Sophie Vavasseur). I think most nuns are/were more like her. Or like Sister Theresa (Marian Quinn), who was just doing her job. Yes, she was keeping Desmond Doyle away from his daughter, but that was the law--which was assuredly [i]not[/i] written by nuns. Had she found out how brutally Sister Brigid treated Evelyn, one assumes that she would have stepped in. Certainly she gives no indication that she would not. Again, she's just doing her job. I find it interesting that the most focus is given to Evelyn, above Dermot (Niall Beagan), Maurice (Hugh Macdonagh), and especially the missing Noel, John, and Kevin. It's entirely possible that this is because she's the one who wrote books on the subject; it's entirely possible, in fact, that the movie is largely based on her books. However, it's rather rare for a story about a crusading father to be, well, named after his daughter. I don't think it's trying to, but I think the movie strongly implies that Evelyn was her father's favourite, and that if he could have picked one kid to get out of the orphanage, it would have been her. I think what it's trying to say is that she was Daddy's Little Girl, and he was more afraid for her because, presumably, the boys could take care of themselves. I guess you'd have to ask Pierce Brosnan--whose production company made the film--or someone. Certainly it's a little-explored aspect of Irish law. Oh, we all know that mothers get preferential treatment in custody, though my understanding is that it's less true now than it was. However, for fathers to get less preferential treatment than [i]orphanages[/i] is not so well known. It's also worth noting that, for all that, it follows the stereotype of the vindictive mother-in-law--despite the fact that not even she knows where her daughter has gone, she's the one who sics the law on Desmond Doyle, simply because she'd rather anyone else have the kids, even the orphanage.
Edith Nelson
Evelyn Quotes
There are no approved quotes yet for this movie.
Discussion Forum
Discuss Evelyn on our Movie forum!