Ever Since the World Ended
(2001)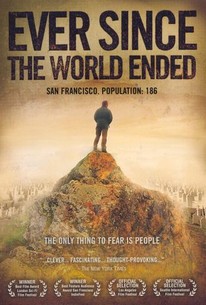 Ever Since the World Ended Photos
Movie Info
This pseudo documentary imagines the possible outcome after a strange and virulent virus sweeps the world, killing the vast majority of the Earth's population and reducing the city of San Francisco to only 186 people. Ten years after the virus first began claiming lives, Cal (Calum Grant) wanders Northern California with a video camera in an effort to document what is left of American civilization. A large commune, led by Mama Eva (Angie Thieriot), is the closest thing to a governing body San Francisco has left, but not everyone is welcome to stay with Eva and her group, and a number of misfits and lawbreakers wander the countryside, scavenging to survive. Mad Mark (Mark Routhier) was once a member of the commune, but his pyromaniacal tendencies led to his expulsion, and now he's wandered into the city, where he can start fires at will. A pair of surfing looters (Stewart Fallon and Simon Thieriot) crack wise about their fate as they break into long-abandoned homes, looking for valuables and often encountering the dead. A nomad named Santosh (Brad Olsen) wanders into Marin County, which has been reduced to a wasteland; there he meets Dan (Dan Plumlee), a former businessman who now gets by trapping wild game when he can find it. And a doctor (Mary Rutherford) sits down to discuss the plague and how it came to destroy the world as she knew it, nearly a decade after her battle to save the world was lost. Shot on videotape using the European PAL system for higher visual fidelity, Ever Since the World Ended was enthusiastically received in its screening at the 2001 Los Angeles Film Festival.
News & Interviews for Ever Since the World Ended
Critic Reviews for Ever Since the World Ended
Audience Reviews for Ever Since the World Ended
Some of the worst actors ever in a movie and the stupidest most pointless awfulest documentary type movie I have ever seen, whose idea was it to make this total piece of garbage, its all made up what is the point, and its boring
Paul Atkinson
Although the acting is top notch and the idea of this type of film is intriguing, this movie is extremely ugly and hard to watch for its duration, however small.
Gavin Drake
A lot of interesting concepts and a neat idea but horribly slow and lacking any sort of action. They also do a bad job of making things seem desolate. They show an empty street and some barren landscape but I didn't really feel like I was alone. The ambience was just seriously lacking which made it hard to get into the movie or believe, relate, have any feelings for the characters. The entire movie is just dialogue and panoramic shots. Which makes sense since its supposed to be a documentary but it was still boring and not very believable. Also, kind of counter productive to the point of the movie. Considering they're trying to survive, which apparently they've transcended that once again, they decide to make a movie? I don't know. Lay down on your floor face pointed downward, with your eyes open for 90 minutes and you'll feel as accomplished as if you had watched this movie.
Tony Green
Ever Since the World Ended Quotes
There are no approved quotes yet for this movie.
Discussion Forum
Discuss Ever Since the World Ended on our Movie forum!