Maria Larssons eviga ögonblick (Everlasting Moments) (Maria Larsson's Everlasting Moment)
(2009)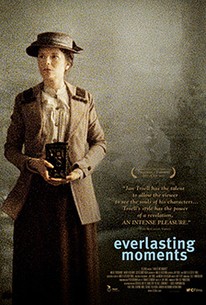 TOMATOMETER
AUDIENCE SCORE
Critic Consensus: Elegant and intimate, Everlasting Moments moves at the deliberate and gentle pace of a classical European period drama.
Maria Larssons eviga ögonblick (Everlasting Moments) (Maria Larsson's Everlasting Moment) Photos
Movie Info
In a series of remarkable events inspired by a true story, Maria Heiskanen stars as Maria Larsson, a Finnish mother and housewife who devotes all of her attention, care, and consideration to the well-being of her family -- but, like many homemakers, does so at the expense of her own identity and self-awareness. Not that her dockworker husband, Sigge (Mikael Persbrandt), particularly deserves such consideration; a brutish, alcoholic lout, his evenings consist of making life hell for Maria and their daughter with tyrannical, abusive behavior. Then, as the dockworkers go on strike and the family's economic situation plummets, a ray of hope appears, in the form of a Contessa camera won in a local lottery. Unsurprisingly, Maria at first attempts to pawn it to reel in extra monies, but store owner Sebastian Pedersen convinces her otherwise; he teaches her how to use it, and she begins taking gorgeous, haunting photographs with the unaffected, instinctive perceptions of a young child. As the woman's self-discovery builds and her identity takes on form and definition, Sebastian unofficially takes her on as a protégée and quietly witnesses romantic feelings for her building inside of him. Meanwhile, Sigge's life falls to pieces when the authorities connect him with the catastrophic explosion of a British vessel. Maria's daughter, Maja (Callin Öhrvall), narrates.
News & Interviews for Maria Larssons eviga ögonblick (Everlasting Moments) (Maria Larsson's Everlasting Moment)
Critic Reviews for Maria Larssons eviga ögonblick (Everlasting Moments) (Maria Larsson's Everlasting Moment)
Audience Reviews for Maria Larssons eviga ögonblick (Everlasting Moments) (Maria Larsson's Everlasting Moment)
½
This is an interesting movie. Set in Sweden in the early 1900's. Back in the days when life was hard, marriages were until "death do us part" and there is no AA. Makes you glad to know that we things are a little easier now. Maria rises above the banality of that life - with the help of a camera she won in a lottery, and a soul-mate - the local photographer.
A visually stunning Swedish film that tells the story of a woman, faithful to her brutally abusive husband, and who finds a creative outlet in taking photographs. The story is told with a voice over from the eldest daughter as a remembrance of her parents' marriage. Maria Larsson (Maria Heiskanen) falls for the big, strong Sigfrid, or Sigge (Mikael Persbrandt), and marries him. After several children, she discovers a camera she had won as a girl. With the family down on its luck, she tries to pawn it, at a photographers shop, only to have the proprietor, Sebastien Pedersen (Jesper Christensen), talk her into trying her hand at photography. The interplay between the leads was carefully nuanced. We saw the mutual admiration that developed between the photographer, Sebastien, and his protege, and the jealousy of her husband. We saw the poverty that the family lived in, and yet also the joy that they shared over simple pleasures. We saw the frustration of a man who knew he was a poor provider. We saw his conflict over fulfilling his familial obligations and his moral weakness as evidenced by his taking a mistress. There were scenes of incredible beauty, lovingly framed and beautifully acted. There were scenes of unspeakable brutality exacerbated by Sigge's thirst for the demon rum (or Slivovitz, or whatever it was that he drank) and his guilt. But through it all, it was the strength and decency of Maria that kept this viewer enthralled. At something over two hours, this film requires an investment, but that proves well worth the effort. We cannot begin to understand what kept Maria going through the rough patches, but one's admiration for her never wavers. There is wonder here in the midst of the squalor, light shining on the darkest places, and hope, springing eternal.
Mark Abell
Super Reviewer
Everlasting Moments is something very unusual: a very good and well-executed movie from my home country, Sweden. The story is intriguing and the photography excellent. Great acting from Heiskanen and Persbrandt. Not an everlasting experience, but definitely memorable.
Maria Larssons eviga ögonblick (Everlasting Moments) (Maria Larsson's Everlasting Moment) Quotes
| | |
| --- | --- |
| Voice of Maja: | Why Mother stayed with Father I've always found a mystery. Perhaps it was love. |
| | |
| --- | --- |
| Voice of Maja: | When Mother looked at her pictures she'd say: "Imagine, we'll always be here. These moments will be everlasting." |
| Voice of Maja: | When Mother looked at her pictures she'd say: 'Imagine, we'll always be here. These moments will be everlasting.' |
| | |
| --- | --- |
| Maja Larsson (15-22 yrs.): | My little brother Erik never learned to walk without crutches. But he could swim. Sometimes he'd sit on the seabed: "You think so well down there," he said, "And you don't weigh anything." |
| Maja Larsson (15-22 yrs.): | My little brother Erik never learned to walk without crutches. But he could swim. Sometimes he'd sit on the seabed: 'You think so well down there,' he said, 'And you don't weigh anything.' |
| | |
| --- | --- |
| Sigfrid Larsson: | Going out just as I get home? |
| Maria Larsson: | Where else would we get money? |
| Sigfrid Larsson: | I don't want you cleaning for capitalist swine, do you hear? |