Every Man for Himself
(1980)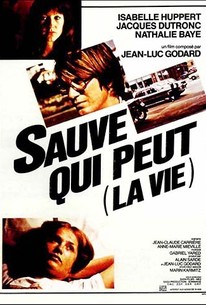 AUDIENCE SCORE
Critic Consensus: No consensus yet.
Every Man for Himself Photos
Movie Info
Sauve Qui Peut (la Vie), a pessimistic but visually stunning film, marks Jean-Luc Godard's return to cinema after having spent the 70s working in video. The film presents a few days in the lives of three people: Paul Godard (Jacques Dutronc ), a television producer; Denise Rimbaud (Nathalie Baye), his co-worker and ex-girlfriend; and Isabelle Riviera (Isabelle Huppert), a prostitute whom Paul has used. Denise wants to break up with Paul and move to the country. Isabelle wants to work for herself instead of her pimp. Paul just wants to survive. Their stories intersect when Paul brings Denise to the country cottage he is trying to rent and Isabelle comes to see it without knowing that the landlord has been her client. The film is broken into segments entitled "The Imaginary," "Commerce," "Life," and "Music." Each of the first three sections focuses on one character and the last section brings all three characters together. This complex film is often closer to an essay than a story; it uses slow motion and experimental techniques to explore questions of love, work, and the nature of cinema. Sauve Qui Peut (la Vie) was Godard's first film with his frequent collaborator Anne-Marie Miéville, who edited and co-wrote the film. ~ Louis Schwartz, Rovi
Critic Reviews for Every Man for Himself
All Critics (3) | Fresh (3) | Rotten (0) | DVD (1)
has a pungent melancholy to it

Even in the same year as Raging Bull, Melvin and Howard, Dressed to Kill and The Long Riders it was still the freshest, most thrilling movie to behold.

Audience Reviews for Every Man for Himself
Welcome to a semi-autobiographical tale by Jean Luc Godard. One of the principal actors is indeed Godard himself (Jacques Dutronc). It's a multiple plot tale, revolving around the central theme of failed relationships. That of his on and off again girlfriend (Nathalie Baye) , his ex-wife (Paule Muret) and daughter (Cécile Tanner) and a one-night stand with a prostitute (Isabelle Huppert). It was hailed as his return to linear storytelling (being his other films can be quite esoteric). But it is still classic Godard with some outrageous dialogue (with the Italian car attendant) and unsettling frank discussion about entering prostitution (Huppert and Anna Baldaccini) being just two examples. The cinematography adds to the film's mystic, periodically having "slow motion" shots to illustrate loneliness and desperation sometimes met in life. The surprisingly strong performance of Huppert not as a femme fatale but that of a dispassionate woman trying to just make ends meet. Dutronc does a good job of being a man trapped in misery trying to end the cycle of failed relationships, while a brief but all too real performance of Paule Muret and Cécile Tanner were scene stealers. Nathalie Baye does give a strong performance as the "other woman" or "wronged lover" role, trying to move on literally (her ex-lover is taking forever to rent out their former love nest). Figuratively (most shots she is alone, e.g: long biking, walking shots, her moving out the country, away form the city). She even tries desperately to seduce her photographer friend (Michel Cassagne) who ends up finding her repulsive. Carefully crafted we find how all of these multiple plot points coalesce into a linear denouement that is abrupt but also gives a bittersweet conclusion to to this menagerie of lost souls. With everything said and done this might be one of my favorite yarns spun by Mr Godard. It's uncluttered design both intrigued me and kept me watching. While being a more conventional story it also gives the audience "shock factor" in ways that thickens the plot with twists and turns similar to Nathalie Baye's bicycle in the French countryside. There is once again no small scene in the masterstroke by Jean Luc Godard.
Cody St. John
Jean-Luc Godard's "Every Man for Himself" is intriguing, but not as essential as the director's early films. Lack of cultural context may be the key. His '60s work was stuffed with topical commentary on Paris street life and restless youth, but "Every Man for Himself" is just an insular tale of a few random urbanites. It was released in 1980 but, really, the script could have been written during any year. Regardless, the film's appeal mostly hangs upon a beautiful, blank-faced prostitute (Isabelle Huppert, whose character shares her name). Be patient: She doesn't enter until a half hour has passed. Isabelle is neither energized nor depressed by her unsavory job, and meets her appointments with all the passion of a housewife drying dishes. She's even game to let her younger sister into the racket -- well, as long as the sister has nice enough breasts and is willing to cut Isabelle a share of her profits. Isabelle is equally nonchalant about almost any perversion, whether it's incestuous role-playing, spanking or the strangest foursome choreography you've ever seen. The other storyline involves a couple who mostly function apart from Isabelle. Their tale is not so interesting, even though the male is provocatively named "Godard." This Godard (pop singer Jacques Dutronc) is emotionally aloof, works in television and has a child via an estranged wife. He's also on the brink of losing a relationship with a film editor (Nathalie Baye) who likes to bicycle rather than drive. She has an earthy sensuality but Godard, hidden behind a shaggy haircut and oversized glasses, is an unlikable cipher. Eventually, the two intersect with Isabelle. Director Godard's usual tricks abound, jabbing the audience to notice the artifice of cinema. Title cards appear, dividing the film into four vague sections. Characters notice the non-diegetic music, and one shot where a string section appears onscreen almost recalls the absurd Count Basie cameo in "Blazing Saddles." Jerky, slow-motion moments keep intruding for little discernible reason (a late example does save the need for a stunt man). And dialogue repeatedly overlaps across scenes -- in other words, a conversation lingers on the soundtrack after the visual setting jumps elsewhere. There's even a quick in-joke pointing out how movie vehicles typically lack a rearview mirror. "Every Man for Himself" was Godard's return to narrative film after several years of thorny experimentation. His peculiar genius remains evident, but seems a bit diffused.
Eric Broome
Super Reviewer
Godard's "comeback" movie is his best work since the 1960's, which is either saying a lot or a little depending on point of view. It actually tells *stories* while having the usual lot of bizarre play and dour commentary on commerce. It's the kind of movie that reminds me why I keep watching whatever the man does, even after I get burned by one of his more bullshitty movies.
Jack Gattanella
Every Man for Himself Quotes
There are no approved quotes yet for this movie.
Discussion Forum
Discuss Every Man for Himself on our Movie forum!