Everybody's Doing It
(2002)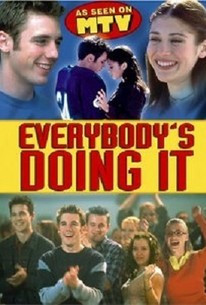 AUDIENCE SCORE
Critic Consensus: No consensus yet.
Movie Info
High school girl Angela (Lizzy Caplan) returns from summer vacation with a dilemma: Should she or should she not surrender her virginity to her boyfriend, Travis (Bret Harrison)? Upon her return, Angela discovers that her high school has just instituted a trendy new sexual-education program -- consisting solely of "Just Say No." Despite increasing pressure from friends and faculty alike, Angela refuses to sign a circulating abstinence pledge, citing the undeniable fact that most of supporters of "Just Say No" have no idea what they're talking about. Her stance is contrasted with that of her hypocritical, apple-polishing classmate, Caroline (Brooke D'Orsay), who zealously goes along with the new program (and strong-arms others into doing so) only to curry favor with her teachers. As the story rolls on, it is clear that the "Just Say No" credo is a farce -- to everyone except, perhaps, the one person who openly treated it as a farce in the first place. Made for the VH1 cable service, Everybody's Doing It premiered December 22, 2002.
Critic Reviews for Everybody's Doing It
Audience Reviews for Everybody's Doing It
½
It's presented in an oversimplified manner but the message to fight the herd instinct is a good one.
½
This is a pretty good movie. About kids in school on the verge of having sex for the first time, and how the school tries to deal with sex education. We get to see all this through the eyes of Angela who refuses to be herded as are most of her schoolmates. It was also funny to realize after a few scenes that they used the name of a local school of ours, and I've seen the face of the school portrayed in the outdoor scenes (but it is not Grant Park High School).
It was alright but not on my list of "To-see-again Films".
Leigh Ryan
Super Reviewer
Everybody's Doing It Quotes
There are no approved quotes yet for this movie.
Discussion Forum
Discuss Everybody's Doing It on our Movie forum!