Everybody's Famous!
(2001)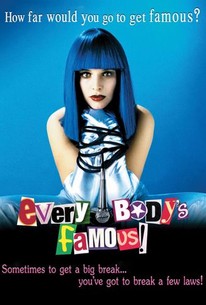 TOMATOMETER
AUDIENCE SCORE
Critic Consensus: Though some critics consider Everybody Famous too lightweight to have deserved a slot among the Academy Awards foreign film nominations, this whacky satire of the cult of celebrity makes for loopy, cheerful fun.
Everybody's Famous! Photos
Movie Info
Just how far should a father go to help his daughter gain fame and fortune? Jean (Josse De Pauw) lives in a working-class Belgian community, where he holds down a job at a bottle factory with his friend Willy (Werner De Smedt). Jean and his wife Chantal (Gert Portael) have a teenage daughter, Marva (Eva van der Gucht), who like her father, is interested in music; Jean likes to write songs in his spare time, while Marva dreams of becoming a singer. But Jean's songs don't seem to impress anyone but Willy, and while Marva has a good voice, she's overweight, has little charisma, and seems a poor prospect for success in show business. When the bottle factory is shut down, both Jean and Willy are thrown into dire circumstances, and Jean is trying to figure out how to support his family when his car breaks down in the middle of nowhere. He is offered a ride by a friendly stranger, whom Jean soon recognizes as Debbie (Thekla Reuten), a well-known pop singer. In a flash of ill-advised inspiration, Jean gives Debbie a heavily drugged beverage, and after she passes out, he spirits her away to a cottage in the woods. He then contacts Debbie's manager (Victor Low), informing him that he has the star hidden away -- and if he ever wants to see her again, Marva has to be given a chance to sing on national television. Iedereen Beroemd! was shown in competition at the 2000 Venice Film Festival.
Critic Reviews for Everybody's Famous!
Audience Reviews for Everybody's Famous!
Everybody's Famous is an Academy Award nominee for Best Foreign Language Film with plot on fame and stardom bordering ridiculous and stupid, but still sweet, likable, and funny.
Jan Marc Macababayao
Super Reviewer
The ending will have you cheering for the characters, and was pretty moving and honest for a comedy; but honestly, this took a lot of time to start going anywhere, and there are a lot of cookie cutter roles.
Everybody's Famous! Quotes
There are no approved quotes yet for this movie.