The Evictors
(1979)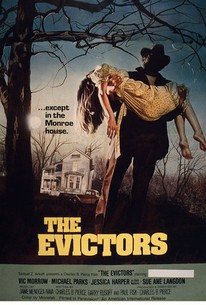 AUDIENCE SCORE
Critic Consensus: No consensus yet.
The Evictors Photos
Movie Info
This pedestrian haunted-house film stars Vic Morrow as a creepy real estate agent who introduces a young couple to a quaint Louisiana farmhouse, neglecting to inform them of its horrific, blood-spattered past. As bizarre events begin to plague the couple, their suspicions that the place may be haunted slowly give way to the notion that someone is trying to scare them silly. Unfortunately, viewers will have little difficulty solving the mystery, as writer-director Charles B. Pierce tends to be all thumbs in the suspense department (despite a few decent shocks toward the end). The pseudo-documentary tone (the film is supposedly based on a true story) only manages to cheapen the overall look, and is far short of convincing.
Rating:
PG
Genre:
, ,
Directed By:
Written By:
In Theaters:
Runtime:
Studio:
American International Pictures
Watch it now
Cast
Critic Reviews for The Evictors
All Critics (1) | Fresh (1) | Rotten (0)
Could be a metaphor for the notion that the insular, suspicious South would rather evict -- exterminate -- a stranger or outsider than risk being contaminated by alien, progressive ideas.

Commercial Appeal (Memphis, TN)
Audience Reviews for The Evictors
I want you to move. A young married couple rents out a house in the country in Louisiana. The couple doesn't know that a strange family once lived there that murdered strangers. A shootout between the killers and the police occurred and lots of people died. When strange things start happening to the couple around the house, it would be easy to blame the events on the history of the home, but is the house really haunted or do the locals just want them gone? "I knew we'd have our revenge." Charles Pierce, director of The Legend of Boggy Creek 1 & 2, Bootleggers, Chasing the Wind, The Town that Dreaded Sundown, The Winds of Autumn, and The Norsemen, delivers The Evictors. The storyline for this picture is just okay and fairly predictable. The villains were well done but the overall acting was mediocre. The cast includes Vic Morrow, Michael Parks, Jessica Harper, and Dennis Fimple. "We killed three people yesterday. We can't get away with that." I came across this on Netflix and decided to give it a shot since it seemed to have an old school grindhouse feel to it. It was just okay and fairly straightforward. The villains were fairly well done, but they were not good enough to carry the film. This was fairly disappointing and is not a must see. "You should vacate the premises immediately." Grade: C-
Kevin Robbins
½
Once in a while there comes an obscured gem that is truly an exciting and thrilling horror experience. The Evictors is such a gem, this is a well acted and directed horror yarn that is a must see for genre fans. This is a film that relies on the basics to tell a good story and it works. The cast is great as well and comprises underrated actor Michael Parks and actress Jessica Harper. This is a creepy an intense movie that is sure to satisfy fans who love obscured horror films. The film relies on atmosphere to set the tone of the film and it successfully builds up tension and dread in the viewer. Films like this are a rare commodity and deserve to see the light of day. The direction by director Charles B. Pierce is great, and can craft a terrific horror picture that is genuinely unnerving. The film at times could have been better, but it relies on a good cast to elevate the story and brings on the tension that fans are looking for in a traditional horror film. Films like this are far better than most films in the genre. This is a well acted, directed and told horror picture that goes for basic chills rather elaborate and poorly thought out sequences that simply don't work. The Evictors is a worthy addition to the genre and one that is a must see for horror fans looking for a well acted and genuinely eerie film. The Evictors is entertaining from start to finish and it is one of the best obscured titles that I have seen in quite some time. If you come across this one, give it a shot, you will be surprised at how good it is.
The Evictors is another film from Charles B. Pierce, the man responsible for the very silly film The Town That Dreaded Sundown. I found nothing scary whatsoever about that particular film, but The Evictors, thankfully, is a different affair altogether. It's more of a psychological thriller than a horror film, and contains a twist that I managed to pick up on early in the story. It didn't spoil the film for me though. What I found refreshing about it was that when the terrible things begin to happen to Ruth, played by Jessica Harper, that her husband doesn't treat her like she's crazy. He does what a real husband would do: protect his wife and help her to protect herself. The film's plot plays upon the notion that this old house that they have moved into is cursed, and that everyone who has ever lived in it has met some terrible end. It's not the most effective film in the world, but it does generate enough atmosphere for chills. If you can manage to find yourself a copy (it's out of print, as of this writing) then check it out. Definitely a crowd pleaser.
Tim Salmons
Super Reviewer
Discussion Forum
Discuss The Evictors on our Movie forum!
News & Features