Evil Laugh
(1987)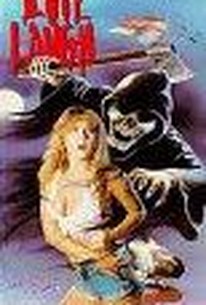 AUDIENCE SCORE
Critic Consensus: No consensus yet.
Movie Info
In this slice-n-dicer, a homicidal maniac wreaks bloody havoc upon a gang of medical students who have broken into an empty orphanage to have a fun weekend drinking and carousing with their girl friends.
Rating:
R
Genre:
Directed By:
Written By:
On DVD:
Runtime:
Studio:
Celebrity
Critic Reviews for Evil Laugh
Audience Reviews for Evil Laugh
A B-film copying the plot of Friday the 13th completely, only changed the setting. The entire film was ridiculous, there was nothing good I can say about this film. Just please don't waste time on buying this film.
Sylvester Kuo
Super Reviewer
Overall a below average horror movie in my opinion. Some great effects, cool plot ideas, and the fact that this movie did the whole meta-horror, self commenting, self-reflexive horror thing about a decade before SCREAM (which is pretty cool). But I can't lie, there were many moments in which I just had to struggle to take this movie seriously, and more often than not, that is going to drive down my personal rating for a horror movie. It's worth a watch, but you very-well might not care to have a second go-around with it.
Michael Joseph
Evil Laugh concerns an old orphanage (the site of a murderous massacre) that has been bought up by a young medical school yuppie who is going to spend the weekend renovating the place with his girlfriend (Kim McKamy aka pornstar Ashley Gere) and his other yuppie friends. Before any of the friends can make it to the house, a sinister murderer pops up and takes out the new owner. When the group gets there, they shrug off his disappearance and begin renovating, partying, and sexing it up until they start getting bumped off one by one by this unseen killer with a sinister laugh. Though released in 1988, the quality of film makes it look as though it came out in the VERY early 80's. Let's not forget the laughable effects and acting, but somehow...this film is actually kinda fun. There are a couple of genuinely funny moments (which are intentional as the film tries to go the horror/comedy route), and one of the best characters comes in the form of Barney, a horror enthusiast who clearly knows what's happening and what's going to happen throughout the entire movie, yet no one will listen to him or give me a ride into town. The idea of the one smart character amidst a bunch of dumb ones is rarely used, but hilarious when pulled off decently. The two biggest names in this include the two lead females, one being Gere, whose character is about as far away from her pornstar career as possible. There's even a nude shower scene for her character, but it's clearly a body double. Guess she had a small shy side before she started taking dicks up the butt. The other "star" is blonde bombshell Jody Gibson, who shows off the titties nicely in her ONLY movie. Rather than a popular actress, Gibson is best known as a top Madam of a Hollywood Whorehouse. Go figure. Overall, Evil Laugh is far from greatness, especially when the reveal of the killer makes absolutely no sense whatsoever. If given some alcohol and a group of friends, this film may be pretty enjoyable to laugh at.
Jason Duron
Evil Laugh Quotes
There are no approved quotes yet for this movie.