Evil Things
(2009)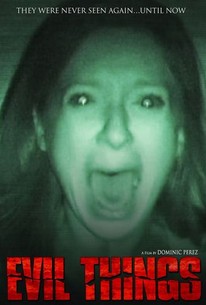 AUDIENCE SCORE
Critic Consensus: No consensus yet.
Movie Info
Five college students leave New York City to celebrate a birthday in the country, but find the party cut short when they encounter an unimaginable evil. Miriam (Elyssa Mersdorf) is turning 21. With the keys to her aunt's remote vacation home secured, she invites her friends Cassy (Laurel Casillo), Mark (Morgan Hooper), Tanya (Torry Weiss) and Leo (Ryan Maslyn) out to the country to help ring in the big day. As soon as the group gets out of the city, however, a snowstorm blows in and a mysterious van keeps appearing in their rearview mirror. Eventually, Miram and her friends reach their destination, with shutterbug film student Leo documenting the journey for prosperity. The following morning the countryside is covered in snow, and the friends set out to explore some local caves. Panic starts to set in, however, when the group loses their way, night falls, and strange sounds emanate from the surrounding woods. When the cabin appears in the distance, everyone things they're home free. But the moment they come in from the cold, the real terror begins. ~ Jason Buchanan, Rovi
Critic Reviews for Evil Things
There are no critic reviews yet for Evil Things. Keep checking Rotten Tomatoes for updates!
Audience Reviews for Evil Things
Five friends in New York travel to a house in the middle of the mountains in winter to celebrate the birthday of one of their friends. Along the way they're being tracked by a van, but they think the terror ends when they arrive at the house - but it's just beginning. Yet another "found footage" fiasco filled with pointless screaming (lots, and lots, and lots of screaming), scares that weren't scary, and an ending that is as open-ended as a club-faced sandwich. It's a fun movie to make fun of, but only someone with very little intelligence would even be frightened by this.
Joe James
½
I'm definitely in the minority, because I thought it was terrific. It's "Blair Witch" and "Paranormal Activity" rolled into one. I think it's much better than those,. There are more surprises, and much better acting. I think the movie suffers a little from the characters and how they come across. They're spoiled rich kids who if they don't get their way, they sulk. That leads you to not care about them, and maybe even root for the other side. Best horror movie since "Insidious".
Chris Hall
½
Who wrote this movie, it is so messed up! A stalker with a video camera that wants to stalk and video tape groups of teenagers that also have cameras. This movie could have done better without the R rating. There is no scary monsters in this movie. It's more of a mystery and drama than horror movie.
David K
Evil Things Quotes
There are no approved quotes yet for this movie.
Discussion Forum
Discuss Evil Things on our Movie forum!