Satanic Yuppies
(1996)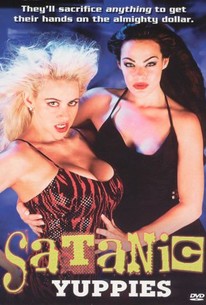 AUDIENCE SCORE
Critic Consensus: No consensus yet.
Movie Info
From the filmmaking team of Mark Burchett and Michael D. Fox (Vamps), this independent sex horror flick stars scream queen Debbie Rochon as a minion of Satan using a PR firm as a front for a devilish cult that preys on nubile young ladies. When an innocent girl falls into the sect's clutches, her only hope for salvation is an intuitive reporter. Also released under the title Evil Ambitions, Satanic Yuppies co-stars Paul Morris and Lucy Frashure.
Rating:
NR (adult situations/language, nudity, sex, violence)
Genre:
Directed By:
Written By:
In Theaters:
On DVD:
Runtime:
Studio:
Tempe Home Entertainment
Critic Reviews for Satanic Yuppies
All Critics (2) | Fresh (0) | Rotten (2)
Curious horror fans will find themselves feeling oddly charitable once the flick draws to a close, even if they didn't exactly adore the thing.

Audience Reviews for Satanic Yuppies
½
A reporter struggling to rise above the level of a tabloid writer and return to his glory days (Morris), stumbles upon a Satanic cult hiding behind the front a public relations agency. "Satanic Yuppies" is a cute horror comedy that gets better as it goes along. The first half hour or so is pretty dull, plagued by lame dialogue and barely passable acting, but as the film finally gets going, it becomes funnier and more intense, even if the acting continues to be pretty bad and the dialogue rancid. If you're a fan of the old Kolchak movies or the "Night Stalker" television series, you're more likely to enjoy this movie as it has that sort of vibe about it--the main character feels like an updated version of Kolchack, even if the actor can quite pull off the "I'm dressed in a weird fashion but neither I nor anyone around me seems to notice or care" the way Darren McGavin could. [center][img]http://www.geocities.com/nuelow/movsatanyup2.jpg[/img] [i]Satan (Randy Rupp) is hellbent on claiming the body and soul of a young model (Lucy Frashure) in "Satanc Yuppies"[/i] [/center] The story is also pure "Night Stalker". Our intrepid reporter uncovers and almost becomes the victim of a cult working toward giving Satan a perfect bride... and at the end of the day, he has no proof to back up his story of the century. All in all, it feels like an ineptly mounted Kolchack sequel. However, it's that "Night Stalker" feel that made the movie fun to watch. For all its flaws, it manages to present the same sort of mixture of humor, horror, and satirical social commentary that the best episodes of the series and the original "Night Stalker" movie presented. The film also features one of the best screen incarnations of Satan I've ever come across on-screen, a version of him that matches the natures of those calling him and the tone of the movie. Randy Rupp, who plays Satan, also gives one of the best performances in the film. The result is that the last ten minutes or so of the film are the best part, and a mediocre movie ends up closing with a bang. While "Satanic Yuppies" isn't a move you should go out of your way for, it's worth checking out if you liked the old Kolchack TV series and you're looking for something to fill out your Netflix limit for the month. Satanic Yuppies (aka "Evil Ambition") Starring: Paul Morris, Amber Newman, Debbie Rochon, Ranae Raos, Lucy Frashure, Randy Rupp and Rob Calvert Directors: Mark Burchett and Michael D. Fox
Steve Miller
Satanic Yuppies Quotes
There are no approved quotes yet for this movie.
Discussion Forum
Discuss Satanic Yuppies on our Movie forum!