Evil Behind You
(2006)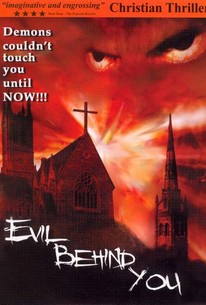 AUDIENCE SCORE
Critic Consensus: No consensus yet.
Movie Info
Two couples find themselves unwilling guinea pigs in a scientific experiment with supernatural undertones in this Christian-themed horror movie that asks what frightening forces lurk just beyond the edge of our consciousness. Upon coming to in a darkened operation room, Lisa Williams (Hilary Kennedy) and Debra Reynolds (Gwendolynn Murphy) are shocked to find Lisa's boyfriend David (Manuel Velazquez) and Debra's husband Tony (D.C. Lee) handcuffed to a pair of nearby operating tables. There is no exit from the room, no one will reply to the women's repeated cries for help, and two unconscious men lie motionless on nearby beds. Neither Lisa nor Debra can recall how they ended up in this place, but as David and Tony begin to regain conscience it quickly becomes clear that they are being forced to take part in some sinister scientific experiment. Now, as the women try desperately to find a way out of their predicament, the men begin to experience a profoundly disturbing change. According to them, there is something unseen and thoroughly evil permeating the air in this room, something waiting for the perfect moment to cross into their reality and strike. With each minute that passes the men seem to become more acutely aware of this diabolical presence, yet the women remain skeptical. It's only a matter of time before this unseen evil manifests itself in our reality, and the longer it takes the women to solve the mystery, the more powerful it will be when it finally arrives.
Critic Reviews for Evil Behind You
All Critics (3) | Fresh (1) | Rotten (2)
Evil Behind You will be heaven for the right audience... but hell for others.

Provides an alternative to the often very graphic and gratuitous horror films of Hollywood.

The thing starts out fun-bad, kind of like a novelty, but then gradually turns into a certifiable chore of biblical proportions.

Audience Reviews for Evil Behind You
I'm not even sure what this cheap little flick was supposed to be about. It seemed to take entirely in a single room, and the characters are awfully boring. The effects aren't that great, and it gets really slow throughout.
Wes Shad
Lisa (Hilary Kennedy) and her boyfriend David (Manuel Velazquez) are enjoying the night when they're abducted, and wake up in a room. Lisa sees Debra (Gwendolynn Murphy), who was also abducted with her husband Tony (D.C. Lee). While the girls are free to walk in the room, their partners are both chained to hospital beds. They have no idea why they're there, as they keep saying that over and over. What they do know is that they've been abducted, and there's some people who are watching their every move. They seem to have drugged David and Tony, as they begin seeing things in the room, and they soon find out that the kidnappers are the least of their concerns, as demons have entered the room, and is tormenting both the captives and captors. This is two words that should never go together - Christian horror. That's exactly what this film was. A way to scare people into believing, and what comes out is frightening alright - frightingly hilarious! The "acting" was some of the worst I've ever seen. The story is so thin they repeat whole lines over and over again, and you can tell they were trying to stretch it. The "effects" were something even a high school freshman could do - and do it better. So if you're looking to be scared, you'll be disappointed. But if you want to watch a trainwreck, then this is right up your alley!
Joe James
Wait, movie, I'm no fan of science, but using the three states of matter as evidence of multiple dimensions is just...stupid. And the two women are hilariously bad actors with an equally bad script. That said, the combination of terrible female actors and bad script lead to the most hilarious suicide of cinematic history. The laughs only continue from there.
Alex Carawan
Evil Behind You Quotes
There are no approved quotes yet for this movie.
Discussion Forum
Discuss Evil Behind You on our Movie forum!