Evil Bong II: King Bong
(2009)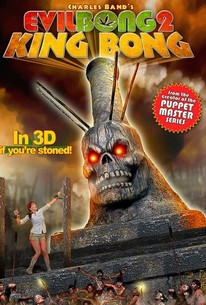 AUDIENCE SCORE
Critic Consensus: No consensus yet.
Evil Bong II: King Bong Videos
Evil Bong II: King Bong Photos
Movie Info
Renowned herb connoisseur Tommy Chong returns in this sky-high horror comedy about a murderous smoking apparatus. The goofy and indelibly outré Evil Bong 2: King Bong is directed by low-budget genre legend Charles Band, the man behind such classics as Demonic Toys, Dollman, and Puppet Masters.
Rating:
NR
Genre:
,
Directed By:
Written By:
In Theaters:
On DVD:
Runtime:
Studio:
Warner Home Video
Critic Reviews for Evil Bong II: King Bong
There are no critic reviews yet for Evil Bong II: King Bong. Keep checking Rotten Tomatoes for updates!
Audience Reviews for Evil Bong II: King Bong
½
Pretty boring, and many of the jokes are disgusting and unfunny. The King Bong has a pretty foul mouth and the story is almost the same as the first film with a few twists. The plot makes little sense and the ending wasn't very climatic. The voice over during the credits is also pretty vulgar. Overall, the film offers very little and I didn't enjoy it very much.
Wes Shad
½
Silly Silly Doper Humor , Part 3 went more mainstream with a National Release. this is a fun step to get to the next step King Bong is stellar..
Gd Adams
There might be something to the lowered expectations that I went into Evil Bong with that managed to make the movie a better experience than it should have been. Since the first film turned out to be a decent watch and it made me laugh, I went into Evil Bong 2: King Bong with slightly higher hopes. I guess maybe if I wouldn't have done that, King Bong would have been more fun than it turned out to be. Actually, everything that I feared would have gone wrong with the first film actually went wrong with this sequel. Again the DVD cover makes this film seem like it is something other than it is. The first film made it seem like Tommy Chong was the star of the film, but he didn't show up until the very end. The cover of this film made it seem like a giant sized stone bong was the new menace of this film, when in fact this thing is only slightly shorter than an average human. And considering that it took a riff on King Kong, this film doesn't put to good use the jungle theme that it has. In the end, the film probably didn't need to take place in such a location, which truthfully doesn't look much like any jungle I've seen before. The characters are far more irritating this time around. Mitch Eakis, John Patrick Jordan and Brian Lloyd all return in their roles, which I did like. Unfortunately the film makes them rather difficult to enjoy watching. Each is plagued with a side effect from using Eebee, the cursed bong of the first film. One has eaten himself overweight, one is narcoleptic and the other has constant erections that he feels the need to relieve by humping whatever is nearby. All of these unfortunate side effects are used desperately for laughs, and rarely do they generate any real ones. I wasn't much of a fan of the character Alistair, a nerdy student who moves in with the three stoners mentioned above, in the first Evil Bong because of the way the film made him extra nerdy by giving him "big words" to sound smart with. That problem I had with him made me not appreciate the performance by David Weidoff, which wasn't perfect but worked. In King Bong, Alistair is played by Brett Chukerman, who I just didn't like at all in this film. While the other characters were frustrating, they all had some life to them. Alistair on the other hand just slipped through the cracks in this film. Evil Bong 2: King Bong is only worth seeing if you ended up liking the first film. This one isn't as bad as most of the newer Full Moon movies that I've seen, but it just doesn't have the same spark that films like the first Evil Bong, or the second Gingerdead Man had. I kind of hope that this will be the last time that Charles Band tries to make a stoner horror/comedy film.
Bryan Gomez
Evil Bong II: King Bong Quotes
There are no approved quotes yet for this movie.