Evil Breed: The Legend of Samhain
(2005)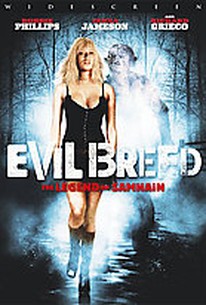 AUDIENCE SCORE
Critic Consensus: No consensus yet.
Critic Reviews for Evil Breed: The Legend of Samhain
Audience Reviews for Evil Breed: The Legend of Samhain
½
Ok, i can't be to hard on this as i knew what i was getting into. The cover i saw(which is different from the one on here) has a big pic of Jenna Jameson with her name in big letters at the top and when i saw Ginger Lynn Allen and Chasey Laine were in it as well I thought this was going to be a softcore/torture porn classic! This obviously knows what it is and for alot of the time doesn't try to be anything else. A teacher and her small class of history students go to whats supposed to be Ireland to learn about local legends and shit like that only to be attacked by some beast/s cos they disturb the legend of Sam Hain. This has what every B-movie horror should really; bad acting, a dodgy script, over the top gore, y'know, the good stuff! One of the worst things is Ginger Lynns(i think its Ginger Lynn anyway) attempt at an Irish accent, which she clearly has a go at, to be fair. The ending is also crap. You get the idea that they ran out of budget so had to just end it randomly! Saying that, Bobbie Phillips stands out as the teacher, one of the only people in this that can act and is quite fit to. Unfortunately Jenna Jamesons only in it for under 5 minutes making the big pic on the front disappointing. Overall, quite a fun B-movie that pretty much delivers on gore but not enough sex/nudity for a film with at least two hardcore porn stars!
Evil Breed: The Legend of Samhain Quotes
There are no approved quotes yet for this movie.