Evil Breed: The Legend of Samhain
(2005)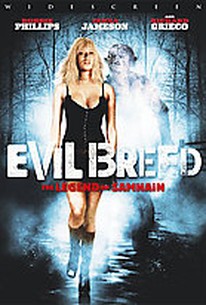 AUDIENCE SCORE
Critic Consensus: No consensus yet.
Movie Info
Rating:
R (For strong violence/gore, sexuality, and language)
Genre:
Runtime:
Audience Reviews for Evil Breed: The Legend of Samhain
½
Ok, i can't be to hard on this as i knew what i was getting into. The cover i saw(which is different from the one on here) has a big pic of Jenna Jameson with her name in big letters at the top and when i saw Ginger Lynn Allen and Chasey Laine were in it as well I thought this was going to be a softcore/torture porn classic! This obviously knows what it is and for alot of the time doesn't try to be anything else. A teacher and her small class of history students go to whats supposed to be Ireland to learn about local legends and shit like that only to be attacked by some beast/s cos they disturb the legend of Sam Hain. This has what every B-movie horror should really; bad acting, a dodgy script, over the top gore, y'know, the good stuff! One of the worst things is Ginger Lynns(i think its Ginger Lynn anyway) attempt at an Irish accent, which she clearly has a go at, to be fair. The ending is also crap. You get the idea that they ran out of budget so had to just end it randomly! Saying that, Bobbie Phillips stands out as the teacher, one of the only people in this that can act and is quite fit to. Unfortunately Jenna Jamesons only in it for under 5 minutes making the big pic on the front disappointing. Overall, quite a fun B-movie that pretty much delivers on gore but not enough sex/nudity for a film with at least two hardcore porn stars!
[img]http://img43.imageshack.us/img43/360/catpeoplever2.jpg[/img] [img]http://img43.imageshack.us/img43/2583/nightbreed.jpg[/img] [img]http://img43.imageshack.us/img43/8950/evilbreedthelegendofsam.jpg[/img] [img]http://img43.imageshack.us/img43/6874/lesbianvampirekillersh.jpg[/img] Reviews coming soon.
Jonathan Baird
[font=Courier New][color=Black][font=courier new]I recorded this on our new DirecTV DVR. We have all the movie channels for a couple of months, I plan on taking advantage of it, to watch movies that I wouldn't even bother to rent. The plot sounded ridiculous enough; a group of teenagers get attacked by some mutant canibals. [/font][/color][/font][font=Courier New][color=Black][font=courier new]The film starts off with a couple of "teenagers" having sex in a tent in the middle of nowhere, they're soon filleted and eaten. I say "teenagers" because they were actually played by a couple of 30-year-olds who I believe were a porn star and who I just realized was a very scary, incredibly bad plastic-surgeried Richard Grieco. The acting and editing are absolutely atrocious, but the gore made me stay around to see how it turned out. The make-up effects for this film are pretty good, the cannibals looked cool, but the make-up team certainly deserved better. [/font][/color][/font][font=Courier New][color=Black][font=courier new]The plot is pretty much [i]Friday the 13th[/i] meets [i]The Hills Have Eyes[/i], with the Randy character from [i]Scream[/i] mixed in. Jenna Jameson, who's in the film for two minutes, and a couple other nameless porn stars try their hand at acting, unfortunately their real talents, getting naked, never make much of an appearance. So a little good gore, two pairs of fake boobs, and some really bad acting and terrible storyline. No way I can recommend it. It's actually so bad that the [/font][/color][url="http://imdb.com/title/tt0318040/board/nest/27388667"]director apologizes for it on IMDb[/url].[/font]
Ross Williams
Evil Breed: The Legend of Samhain Quotes
There are no approved quotes yet for this movie.
Discussion Forum
Discuss Evil Breed: The Legend of Samhain on our Movie forum!