Il Bosco (Evil Clutch) (Horror Queen)
(1992)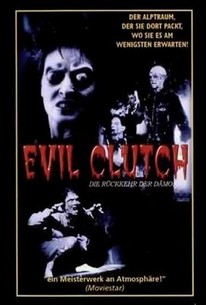 AUDIENCE SCORE
Critic Consensus: No consensus yet.
Il Bosco (Evil Clutch) (Horror Queen) Photos
Movie Info
This choice chunk of Italian horror junk arrived on video courtesy of the cinematic garbage collectors at Troma, Inc. Basically a dull, pointless rip-off of the Evil Dead series, this film gets off to a wonderfully tasteless start, depicting a bizarre castration-murder performed by a female demon (Elena Cantarone) with a clawed appendage that emerges from an unmentionable location. From there, the story slides quickly downhill into the familiar campers-versus-monsters scenario (albeit padded with footage from another film and endless woodland traveling shots), in which unsuspecting vacationers stumble upon both the she-demon and her geeky adversary (Luciano Crovato). Naturally, several of the campers become possessed by the demonic forces lurking within the woods, pitting the survivors against their former companions in an audaciously gory climax. Fans of blood-drenched Italian zombie-fests may find some moments worthwhile, but endless tedious stretches may invite heavy lashings of the fast-forward button. Originally titled Notte nel Bosco, or Night in the Woods. ~ Cavett Binion, Rovi
Rating:
R
Genre:
, ,
Directed By:
In Theaters:
On DVD:
Runtime:
Critic Reviews for Il Bosco (Evil Clutch) (Horror Queen)
All Critics (1) | Fresh (0) | Rotten (1)
Europe's answer to "Evil Dead". Doesn't make much sense and isn't very good.
Audience Reviews for Il Bosco (Evil Clutch) (Horror Queen)
Evil Clutch makes no sense and is really stupid. I found myself squinting while watching it because I could not see what was happening due to insufficient lighting. It is poorly made with poor acting. Simply put, this entire movie is poor, very, very poor.
Josh Moquin
Evil Clutch (aka Horror Queen) Starring: Coralina Tassoni and Diego Ribon Director: Andreas Marfon The story in "Evil Clutch" (such as it is) is about a young couple who leave the city behind for a quiet vacation in the Italian Alps. After an encounter with a mysterious young woman who claims to have been attacked and a self-described writer of 'supernatural stories,' they go camping in the woods. Naturally, they end up being stalked by monsters. A staple of *bad* B-movies are filler shots of people walking along with spooky music playing for no reason, storylines devoid of any logic, characters devoid of any common sense or personality, and actors so bad that it makes one consider a career in the movies. "Evil Clutch" has all these in spades. Additionally, in this film we've to clumsy attempts at foreshadowing and even clumsier attempts at copying scenes that have already been done many times in much better in other films. After all that negativity, I suppose I should point out the two things that recommend this video. First, it has a nice score consisting of electronic music. It's just too bad that said music plays at times that seem as unmotivated and inexplicable as the actions of our heroes. Spend your money and time on something else. You'll regret the loss of both if any is wasted on watching "Evil Clutch."
Steve Miller
Il Bosco (Evil Clutch) (Horror Queen) Quotes
There are no approved quotes yet for this movie.
Discussion Forum
Discuss Il Bosco (Evil Clutch) (Horror Queen) on our Movie forum!