Evil Grave: Curse of the Maya (Curse of the Maya)
(2004)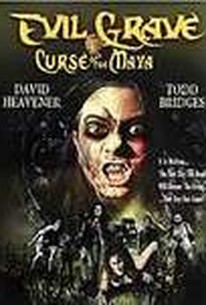 AUDIENCE SCORE
Critic Consensus: No consensus yet.
Movie Info
Having just been released from a mental institution, Renee Summers takes refuge to rest in a secluded cabin. While there, she befriends Michael Richards, but he is not entirely what he appears to be...
Critic Reviews for Evil Grave: Curse of the Maya (Curse of the Maya)
All Critics (1) | Fresh (0) | Rotten (1) | DVD (1)
While's there's some interesting components, Dawn of the Living Dead is definitely not the dawn of a new era in zombie flicks.

Audience Reviews for Evil Grave: Curse of the Maya (Curse of the Maya)
[center][img]http://images.rottentomatoes.com/images/movie/coverv/37/1278737.jpg[/img] [left][font=Courier New]My love of zombie films seems to be getting me into a lot of trouble lately. When I browse the DVD sections of stores and I stumble on a new zombie film, 9 times out of 10 I will most likely purchase the film. That is the only reason I watched David Heavener's [i]Dawn of the Living Dead[/i]. Had it been any other monster that was featured in this film I would have never put myself through this terrible film. I don't think I have ever written or spoken these words before, but here we go. [b]This is the worst zombie movie I have ever seen![/b] Yes, there is an endless supply of crap zombie films out there, but none have ever been as lifeless and dull as [i]Dawn of the Living Dead[/i]. Not once does a clear story emerge, and never does an exciting or thrilling moment ever pop up as well. It is funny that the DVD boasts about having Todd Bridges in the film. You probably remember him as Willis in [i]Diff'rent Strokes[/i]. In [i]Dawn of the Living Dead[/i] Bridges plays Herardo, a mentally challenged man. Pity his appearance and mannerisms are among the most offensive portrayals of a mentally challenged person ever on film. And why exactly did this character need to be in the film in the first place? I hope not for comic relief. Speaking of offensive, just take a peek at the film's representation of the Mayan culture. Some have argued that Mel Gibson's [i]Apocalypto[/i] was disrespectful to the Mayan people. But I challenge you to watch [i]Dawn of the Living Dead[/i]'s take on their traditions about death. How a zombie movie could emerge from all that is beyond me. Utterly foolish! I haven't experienced other films of David Heavener, but I understand that he isn't the most talented filmmaker out there. If [i]Dawn of the Living Dead[/i] is a good representation of this man's talent, then I guess it would be best to stay away from his work. And speaking as a zombie lover, this man has no idea how to make a film about them. Here's to hoping he never makes another one.[/font] [/left] [/center]
Bryan Gomez
½
This movie was not really advertised all that much and I can certainly see why. It is pretty mediocre bu todays standards and offers no real horror. The zombies when they finally make an appearance are good but by the time they make their debut you'll most likely be asleep.
Living Dead Media .com
Dawn of the Living Dead (David Heavener, 2004) NOTE: the following review (well, the first paragraph) contains a major spoiler for this movie. Be warned. Is there anything more satisfying in low-budget horror these days than watching Joe Estevez die horribly? And the best part is, it's so easy to find. Per IMDB, Mr. Estevez (who, in case the look and the voice didn't tip you off, is Martin Sheen's brother, Charlie Sheen and Emilio Estevez' uncle) appeared in sixteen movies in 2010 alone. Without actually investigating, I'd say, simply judging by the titles, a little over half of those are horror movies. I'd further say, given my recent experiences with flicks in which Joe Estevez appears, he probably died (and horribly) in three-quarters of those. I mean, you can't really go wrong with a Joe Estevez movie, as long as you're only looking for "Joe Estevez Bites It. Horribly.". If you're looking for a good movie, on the other hand, you're almost certainly better off looking elsewhere. Estevez, over the past quarter-century, has made some choices that would have been career-killers for just about anyone else. Soultaker. Sigma Die!. Legend of the Roller Blade Seven. (And a sequel!) Zombie Farm. I Got the Hook-Up (which I think actually did kill a number of careers). Dawn of the Living Dead, which was originally titled Evil Grave: Curse of the Maya. Subsequently retitled, one assumes, to appeal to the Romero-loving crowd. Plot: A former mental patient, Renee (Things You Don't Tell's Amanda Bauman), and her doctor, Jeffrey (Estevez), with whom she has fallen hopelessly in love, move out to the middle of the Arizona desert, presumably to continue her recovery. While wandering through the desert one afternoon, she comes upon Michael (martial artist Heavener), a caretaker for the surrounding windmills, and his mentally-challenged assistant Herardo (Todd Bridges... yes, that Todd Bridges). Since they seem to be the only people within hundreds of miles, Renee invites Michael back to the house for dinner, where he tells them that the house (which Jeffrey got on ebay, sight unseen) was the site of the recent murder of a family of illegal immigrants; immigrants, it seems, had been using it as a safe-house for some time. The dead are restless, and Renee finds that she must figure out who the killer is before they devour everyone in sight. David Heavener's acting is... indescribable. Suffice to say that in the scenes they have together, he makes Joe Estevez (by far the best actor in this joint) look good. As Joe was never, shall we say, blessed with the talent of the rest of the family, that takes some doing. And then there is Bridges, who seems to have taken every emotion from the "I'm a mess" years and channelled them into this character, about whom nothing politically correct can be said (he is, in the classical sense of the phrase, a low-functioning moron). There are actors who have made careers out of effectively playing the mentally challenged, Billy Bob Thornton (Sling Blade) and Leonardo di Caprio (What's Eating Gilbert Grape?) being two modern examples. Todd Bridges will never gain that kind of recognition based on this performance. And, as Captain Peacock was wont to say, "thank heaven for that". Heavener's IMDB page notes that, in addition to being a martial artist, he also composes and performs Christian music (whether contemporary or gospel is not specified). Judging by this movie, at least, he should abandon the film career and take up music full-time. It can't be any worse than this. A much better take on this same basic idea, though with ghosts instead of zombies, was released the same year, called Kucuk Kiyamet, in Turkey. Much harder to find in America, I'm sure, but a much, much more rewarding film than this. (half)
Robert Beveridge
Evil Grave: Curse of the Maya (Curse of the Maya) Quotes
There are no approved quotes yet for this movie.
Discussion Forum
Discuss Evil Grave: Curse of the Maya (Curse of the Maya) on our Movie forum!