Examined Life
(2009)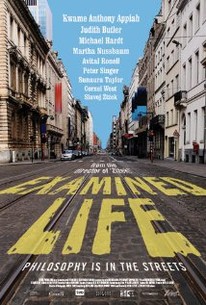 Movie Info
This documentary takes a look at the manifestations of contemporary philosophy through interviews with various figures in the field, who examine these existential issues from the vantage point of lively public places, where everyday people demonstrate their views and values through the most clear and innocuous ways. Some of the guests featured in the film include Cornel West, Avital Ronell, and Peter Singer. ~ Cammila Albertson, Rovi
Rating:
NR
Genre:
, ,
Directed By:
Written By:
In Theaters:
On DVD:
Runtime:
Studio:
News & Interviews for Examined Life
Critic Reviews for Examined Life
Audience Reviews for Examined Life
Makes for an intriguing film. At times funny, and at its best, insightful.
Adriel Lim
Super Reviewer
Slavoj Zizek is a doll; I watched this thinking-person's doc with him in mind, especially, and I wasn't disappointed by his performance. The rest of the philosophers made out to make themselves sound very smart and well-read regarding ethics studies, too, for the limited time they had to take the floor. Some more than others. The lovely pair of women strolling around San Francisco, talking about disabilities and such were sweet. I have to say Cornel West, on the other hand, blows nothing but random bits of smoke out of his ass. For some long moments while watching him and a few others, aside from Zizek, I waited for a point, an applied theory, anything beyond Academia-based personal regurgitation. Knowing concepts thoroughly is one thing, and showing others you know about concepts is another, but original ideas are what I wanted go more of in the Examined Life. Innovation.
Sabra Embury
*sigh* *another sigh but longer* This is not philosophy on the streets. It is political philosophy on the streets. The movie is selling itself as something it clearly is not. Philosophy will remain the discipline of elitist academia because that is the only place it has been and ever will be. Because they covered one branch of philosophy (and very narrowly I might add) the title is a misnomer as well. The examined life means precisely that in all of its unnuanced glory. The movie tries to equate the examined life with the shallow ruminations of a group of political philosophers. The whole movie is made irrelevant for the same reason that all ethical and political philosophy becomes irrelevant when separated from the larger discipline: Philosophy begins and revolves around its metaphysical systems. No discussion of ontology, hermeneutics, epistemology, logic and many other crucial disciplines were touched on by any of the philosophers. Indeed most of the philosophers in this movie have never published anything in these fields. They may be popular now but no one will be reading them 20 years after they're dead, I promise. Ultimately the movie backfires badly. By gathering a who's who of political philosophy to ramble on in a casual setting about philosophy they manage to make philosophy look exactly like what most people believed it was in the first place: navel gazing. It really isn't the ontologists and logicians that are the navel gazers of philosophy its the ethicists and activists that don't think any deeper than a humanist agenda that they've warped through clever reasoning gymnastics. Anyone who watches this that happens to disagree with a view they are seeing expressed will likely be able to ask one of the questions that that philosopher's opponent is asking (in a more academic and elitist way) thus simultaneously conflating all philosophy with this pseudo-intellectualizing and dismissing the whole discipline like they did before watching the movie. I'm only giving the movie 2 points for trying and gathering the group of hot shots it did.
Existen Z.
Examined Life Quotes
There are no approved quotes yet for this movie.
Discussion Forum
Discuss Examined Life on our Movie forum!