Excision
(2012)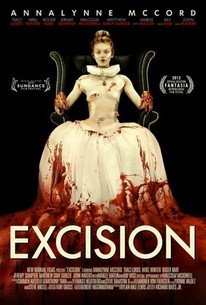 Movie Info
A surgery-obsessed teen struggles with her outcast status while plotting to lose her virginity and save her sister from the ravaging effects of cystic fibrosis in this genre-bending shocker from writer/director Richard bates, Jr. Pauline (Annalynne McCord) is a pretty young girl whose penchant for picking scabs has escalated into a fanatical obsession with the flesh. Recognizing this, Pauline's stern mother insists that the young girl visit the church therapist for counseling. Incensed at the prospect of being judged by a religious hypocrite, Pauline only delves deeper into her visceral fantasies while concocting an ingenious plan to impress her mother. Meanwhile, as Pauline begins devising ways to combat her younger sister's cystic fibrosis, her adolescent hormones kick into overdrive. Traci Lords and John Waters co-star. ~ Jason Buchanan, Rovi
Critic Reviews for Excision
Audience Reviews for Excision
½
The most surprising thing about this movie is the fact that Traci Lords, a former pornographic actress, has turned into a surprisingly solid actress. She's actually quite good in this movie as the domineering mother who expects things to be done her way and everyone who disagrees with her is in the wrong. With that said, however, I don't know if this can be classified so much as a horror movie. It definitely has some horror elements, like Pauline's increasingly violent and disturbing dreams, for example there's one where she has sex with a corpse, there's one where she removes her own head from someone else's body, there's one where she has an abortion and this person puts the fetus in this oven where it proceeds to blow up, etc, etc. When she wakes up, she is clearly turned on by her dreams, so that tells you a lot about her. These scenes with the dreams can definitely be classified as horror, but the movie as a whole, to me, can't. I think it's more of a character study into the mind of a very disturbed, yet vulnerable, teenage girl that does whatever she can to gain some sort of attention from her mother, who's only really worried about Pauline's sister, who's suffering from cystic fibrosis. Grace, Pauline's sister, sees her health deteriorate throughout the film. This is very important, as Pauline spends, pretty much, the entire film coming up with these ideas to get some sort of attention from her mother. At least the attention that she wants, since all she gets from her mother is disapproval or statements about how disappointed she is in Pauline's actions. So, Pauline, seeing that her mother really only cares about Grace, devices a plan to help save her sister, so her mother will finally love her. It's actually really fucking sad if you think about it. That the only way Pauline feels she'd get her mother's love is if she saves the daughter she actually shows some sort of affection for. The movie doesn't exploit this theme, thankfully, but it's actually pretty heartbreaking if you actually think about it. It also helps when you have AnnaLynne McCord puts forward an absolutely incredible performance in this film. Seriously. She is phenomenal in this role as she portrays this character that does all these things that might make her seem unlikable, but it's really just a call for attention and yet none of it works. Thankfully, though, the movie has a very clear obvious sense of humor that helps alleviate some of the film's darker and more disturbing themes or scenes. My favorite scene, from a comedy standpoint at least, has to be one with Marlee Matlin where she's thankful she's deaf after witnessing an argument between Pauline and her mother. The last act of the movie, where Pauline is finally pushed to the edge and she completely loses everything that made her sane, goes to some pretty dark places. But, again, it does reveal another layer of how sad Pauline's quest for her mother's love and approval really is. Honestly, I thought this was a really damn good movie. The writing is really strong and the acting, particularly from AnnaLynne, is pretty damn good as well. That adds up to what, I felt, was a really good movie and one that I would definitely recommend.
Jesse Ortega
Super Reviewer
AnnaLynne McCord and Traci Lords are extraordinary in this disturbingly funny and nightmarish cross between "May" and "Carrie". Highly stylised, at times almost fairy-tale like in execution, "Excision" definitely won't be for everyone but it is an extremely accomplished piece.
Daniel Parsons
Super Reviewer
½
Like a blending of Solondz and Jodorowsky, Bates' debut is a derivative piece of high-school horror in the vein of "Donnie Darko". McCord plays a despicable teen who displays contempt for everything and everyone around her. With a view to saving her cystic fibrosis suffering sister, she obsesses over surgery texts. In a piece of ironic casting, Lords is fantastic as her conservative mother but the casting choices reveal Bates intent to make a "cult movie", not something you can create on purpose. There are moments of bad taste seemingly designed solely for shock value, worst of all a dream sequence involving a microwaved foetus. At only eighty minutes I suspect there are even more atrocities awaiting restoration for the DVD release. No doubt this will become a minor hit among a certain type of teen, those who purposely exclude themselves from society in an attempt to appear individual. Grown-ups are best off avoiding however.
The Movie Waffler
Super Reviewer
Excision Quotes
| | |
| --- | --- |
| Pauline: | I'm ready to lose my virginity. It's a common misconception that having intercourse during menstruation is unhealthy. When I lose my virginity, I want to be on my period. |