Exit Humanity
(2013)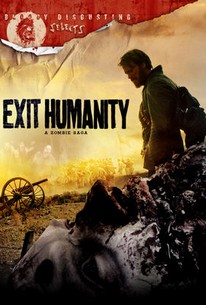 AUDIENCE SCORE
Critic Consensus: No consensus yet.
Movie Info
In the aftermath of the Civil War an unexplained outbreak of the walking dead claims the life of Edward Young's wife while his son disappears. This sets him off on a harrowing journey into the plagued countryside. Facing off challenges not just from the ferocious undead but also from the living, will Edward find an exit to the grotesque caricature of what humanity has become? The War might be over but the fight has just begun.
Critic Reviews for Exit Humanity
Audience Reviews for Exit Humanity
½
I heard good things about this movie so I was maybe expecting too much for a Zombie B movie, but it really disappointed. The concept of it was good, Civil War era overran with the walking dead, but it failed in almost every category. The only good thing about it was the zombies looked half way decent as far as the makeup and movements, but they were the best actors in the film in my opinion. The terrible excuse for an antagonist was also one of the many weak points of the film, as well as the main characters. If you really enjoy B zombie movies you might get some enjoyment out the film, but I doubt it.
Robby Gamble
A stylish and serious zombie film, Exit Humanity is a respectable endeavor, but it drags after the first thirty minutes. A superb cast and stylized vision make Exit Humanity a sad, intelligent take on the zombie genre. Set right after the civil war, Exist Humanity traces the spread of the disease, the struggle to find someone who is immune, and the darkness that dwells inside humankind. As is so often the case with zombie films, the humans actually become the sources of true evil, and the film becomes a reflection on how war turns humans into creatures that crave death and flesh. Still, despite its serious approach to the genre, it should have been about 30 minutes shorter because it plods at various points in the film.
Al Miller
½
A sumptuous period piece zombie drama, superbly shot and with good production values that ultimately faceplants itself on corny drama, cheesy acting, horrid soundtrack and not much novelty to be had. What it does, it does so well, from the animations to the cinematography to the way some scenes unfold but it's all too messy and most of these elements just don't fit together at all in the end. Worth a shot for fans of the genre but even so, there's not enough here to elevate itself above the mediocre or even hope to achieve the classics it so desperately tries to. And crap, is the lead still screaming? Oh... yes... yes he is... *sigh*
Francisco Godinho
Super Reviewer
Exit Humanity Quotes
There are no approved quotes yet for this movie.
Discussion Forum
Discuss Exit Humanity on our Movie forum!