Exit Through The Gift Shop
(2010)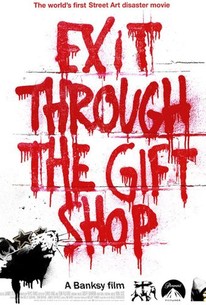 TOMATOMETER
AUDIENCE SCORE
Critic Consensus: An amusing, engrossing look at underground art, Exit Through the Gift Shop entertains as it deflates the myths and hype surrounding its subjects.
Exit Through The Gift Shop Photos
Movie Info
Banksy is a graffiti artist with a global reputation. Fiercely guarding his anonymity to avoid prosecution, Banksy has so far resisted all attempts to be captured on film. "Exit Through the Gift Shop" tells the incredible true story of how an eccentric French shop keeper turned documentary maker attempted to locate and befriend Banksy, only to have the artist turn the camera back on its owner with spectacular results. The film contains exclusive footage of Banksy, Shepard Fairey, Invader and many of the worlds most infamous graffiti artists at work, on walls and in interviews. As Banksy describes it, "It's basically the story of how one man set out to film the un-filmable. And failed!"
News & Interviews for Exit Through The Gift Shop
Critic Reviews for Exit Through The Gift Shop
Audience Reviews for Exit Through The Gift Shop
½
A fascinating documentary about an eccentric guy who decided to film the work of street artists - which could immortalize their ephemeral art -, and it is not only the record of a movement but an amusing character study that also makes us question the nature and value of Art itself.
Carlos Magalhães
Super Reviewer
½
Banksy's directorial debut and it shows. It nears mockumentary status for how the subject of the film essentially becomes the filmmaker, but that switch comes too late to fulfill the larger narrative purpose or thesis, which isn't quite discernible either. I thought I'd be getting a film about graffiti and its status in the art world, but there is very little actual background or debate about this guerrilla art form. The camera flashes quickly through the art pieces, not staying on any one long enough for the audience to take it in. The film is tainted by garbled and shadowed Banksy's desire for anonymous fame, and the motor is more propelled by Thierry Guetta's wild ravings and incompetent artistry than a real search for truth. This all makes me wonder whether or not Banksy even intended to make an earnest film about the legitimacy of graffiti (which seems to be what most people take away from this film), or if he actually just intended to alienate the audience with devil-may-care antics as a type of "joke's on you, this is shite" anti-art performance piece, and if that's the case, he may have succeeded.
Alice Shen
Super Reviewer
½
A very interesting look into the life of street art. The film focuses on Thierry Guetta's life as a filmer and later as an "artist" under than Mr. Brainwash. He's able to achieve success with his art even though he lacks talent and it's funny (and also ridiculous) how he pulls it off. Some of the events in the film are outlandish and there has been speculation on if this is a true story or not. It's still an entertaining documentary with a good message that resonates most with artists.
Eric Shankle
Super Reviewer
Exit Through The Gift Shop Quotes
| | |
| --- | --- |
| Narrator: | Banksy: "I don't think Thierry played by the rules in some ways; but,then there are not suposed to be any rules. So, I don't really know what mine is. I mean I always used to encourage everyone I met to make art, I used to think everyone should do it.....I don't do that so much anymore." |
| Banksy: | I don't think Thierry played by the rules in some ways; but, then there are not suposed to be any rules. So, I don't really know what mine is. I mean I always used to encourage everyone I met to make art, I used to think everyone should do it. I don't do that so much anymore. |
| Narrator: | Bansky: "I don't know what it means, Thierry is huge success and a rival in the art world. I mean, maybe, Thierry was a genius all along. Maybe, he got a bit lucky. Maybe, it means art is a bit of a joke." |
| Narrator: | I don't know what it means, Thierry is huge success and a rival in the art world. I mean, maybe, Thierry was a genius all along. Maybe, he got a bit lucky. Maybe, it means art is a bit of a joke. |
| Banksy: | I don't know what it means, Thierry is huge success and a rival in the art world. I mean, maybe, Thierry was a genius all along. Maybe, he got a bit lucky. Maybe, it means art is a bit of a joke. |
| | |
| --- | --- |
| Narrator: | Shepard Fairey "I do think the whole phenomenon of uh Thierry's obsession with street art, becoming a street artist, a lot of suckers buying into his show and him selling a lot of expensive art, um, very quickly. It is anthropologically, sociologically it's a fascinating thing to observe and maybe there's some things to be learned from it." |
| Shepard Fairey: | I do think the whole phenomenon of uh Thierry's obsession with street art, becoming a street artist, a lot of suckers buying into his show and him selling a lot of expensive art, um, very quickly. It is anthropologically, sociologically it's a fascinating thing to observe and maybe there's some things to be learned from it. |
| Narrator: | Thierry: "I feel good. I feel good as a Artist, to have a reputation, now. You know, an artist is not a guy that you see in one show and you can decide who it is or if he copies Banksy or if he copies uh Shepard Fairey or if he copies... It is about time. You'lll see in the time who I will be. Because, with time you will see my creativity. You will see if I am a real artist or not." |
| Thierry Guetta: | I feel good. I feel good as a Artist, to have a reputation, now. You know, an artist is not a guy that you see in one show and you can decide who it is or if he copies Banksy or if he copies uh Shepard Fairey or if he copies... It is about time. You'lll see in the time who I will be. Because, with time you will see my creativity. You will see if I am a real artist or not. |