Éxtasis (Ecstasy)
(1996)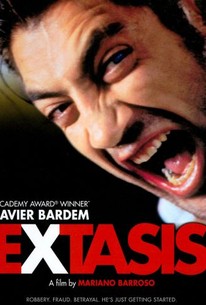 AUDIENCE SCORE
Critic Consensus: No consensus yet.
Movie Info
Three aimless, unemployed and penniless youths hatch a devious plot in order to escape their nowhere lives in this lively Spanish thriller that begins as Rober and Max rob a supermarket owned by their cohort Ona's parents. Their next target is Daniel Peligro, the biological father of Max. Peligro, a prominent, wealthy theater director, has never seen his own son, nor does he even acknowledge his existence. The trio are committing these crimes to quickly earn the cash Rober needs to start his dream restaurant. Fearing that Max will be too emotional seeing his celebrated father for the first time, the three decide that Rober should change the color of one of his eyes (Peligro has one blue and one brown eye) and masquerade as Max. It turns out that the director welcomes his estranged off-spring into his home and even offers him the lead in his latest play. Meanwhile Rober makes hay with Peligro's beautiful girl friend. Not wanting to leave such a luxurious new life, Rober lies to the patiently waiting Max and Ona, telling them he needs more time to plan the crime.
Critic Reviews for Éxtasis (Ecstasy)
There are no critic reviews yet for Éxtasis (Ecstasy). Keep checking Rotten Tomatoes for updates!
Audience Reviews for Éxtasis (Ecstasy)
½
Javier Barden nos regala otra formidable actuacion en este film de Mariano Barroso, Federico Luppi, Daniel Guzman & Silvia Munt completan el reparto de ACTORES, sin efectos especiales, ni esplociones solo talento. Extraodrinaria.
Ramses Cairo
½
What a great film to kill a rainy friday night. A young Javier bardem stars in this dramatic movie full of tension and deception. Three friends tired and looking for a quick way to make some cash as thieves let the seducing Javier Bardem to become the long lost son of a famous and wealthy Argentinan actor. The real son is one Javier's friend and one of the three thieves. You can see a young Bardem come to life and show signs of an actor on the rise. I saw this movie from an old beat up VHS copy and eventhough it was such a horrible quality of a copy it was worth the watch. The film isn't predictable, the acting was great, the story was pretty insane. As I watched the movie I started getting mad at the real son and wondered what I would feel if that happened to me. I recommend this flick to anyone, you won't be bored! Favorite Scene: Javier's contact falls out just as he is about to befreind the Father.
B. Cárdenas
Éxtasis (Ecstasy) Quotes
There are no approved quotes yet for this movie.
Discussion Forum
Discuss Éxtasis (Ecstasy) on our Movie forum!