Exterminator City
(2005)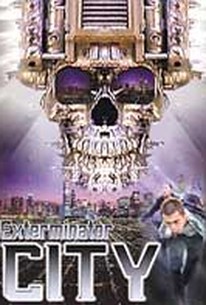 AUDIENCE SCORE
Critic Consensus: No consensus yet.
Movie Info
Rating:
NR
Genre:
On DVD:
Critic Reviews for Exterminator City
There are no critic reviews yet for Exterminator City. Keep checking Rotten Tomatoes for updates!
Audience Reviews for Exterminator City
½
In the future robots wear clothing, but humans don't seem to. An evil killbot fornicates with a demon and serial kills Sara Jay and friends. Other robots try to find and stop him including one with the worst accent ever (Southern? Australian?). Full of terrible one-liners, this is one of those "so bad it's good" films which don't get the credit they deserve. https://www.youtube.com/watch?v=nUiBKtXKZIg
D M
Gratuitous nudity from frame one, combined with blurry film, inexperienced cast & crew and no concept of subtly or editing ensures that naked skin has never been so tediously unappealing to watch.
Mark Nash
I'm a fan of bad movies. I picked this movie up specifically because I saw a youtube video referencing the "worst robot swordfight ever" (which I'll note is the best part of the movie, but was ruined by the rest of the movie once we finally got to it). This is not just a bad movie, it is a terrible movie. It's not even possible to make fun of this movie it's so bad. The entire movie is pretty much bad puppet robots having pointless conversations before cutting to a scene of softcore porn and then having another bad puppet robot show up and brutally kill said soft core porn star. Rinse repeat about 7 times and you have the entire flick. The special effects are pathetic. Ranging from dollar store junk hot glued together and spray painted silver to look like robots, to off name brand Hot Wheels in front of obvious diorama's (this segment is reused what felt like countless times). The cover of the movie itself doesn't even reflect the movie. There isn't a single human male in the whole thing, yet there he is on the cover. Avoid this movie.
Greg Schiestl
Exterminator City Quotes
There are no approved quotes yet for this movie.