Eye of the Beast
(2006)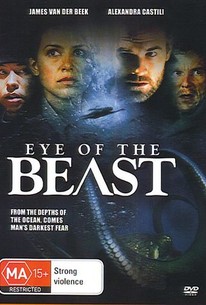 AUDIENCE SCORE
Critic Consensus: No consensus yet.
Movie Info
Fear rises from the depths when a government scientist travels to a remote fishing village in order to investigate rumors of a massive underwater beast with a frightful taste for human flesh. Panic has spread through the fishing village where locals have lived off of the sea's bounty for centuries, and as word of an aggressive leviathan reaches the powers that be, an investigator is dispatched in order to confirm or refute the frightening rumors. Government scientist Dan Leland (James Van Der Beek) is a man of logic, but he's about to cross paths with a creature that seems born straight out of his worst nightmares. In this instance at least, the rumors are well founded, and by the time Dan comes eye-to-eye with the source of all the panic it already be too late for him. ~ Jason Buchanan, Rovi
Critic Reviews for Eye of the Beast
All Critics (2) | Fresh (1) | Rotten (1)

...generally comes off as a surprisingly entertaining little monster movie that benefits substantially from some unexpectedly above-average performances.

Audience Reviews for Eye of the Beast
The Sy Fy channel turns out a "new" movie seemingly every week, but those of us who suffer through enough of them to know that they're all basically the same film featuring a different new killer animal. "Eye of the Beast" at least takes itself seriously for the most part, but that doesn't necessarily make it any better than the rest. There's a lot more talk that we're used to, and most of the squid "action" is reserved for the clumsily filmed finale in which the hopelessly phony CGI creature is finally put to rest. The one thing that is nice about the conclusion is that we finally get to see the eye of the best promised by the title. Until that point, we're stuck with imagining what the rest of it looks like because all we get to see are its tentacles. For someone who's never been much of an actor (and this film is not likely to change that all that much), James Van Der Beek is decent here. He has a nice scene in a bar with co-star Alexandra Castilo that works, so much so it feels like it belongs in a completely different movie. The rest of this is mostly dull, silly stuff that's too boring to be any fun and not well made enough to be taken seriously. There's also a ridiculous backstory involving a feud between the Indian and native fishermen that comes out of nowhere and seems to have nothing to do with anything. It just pads out the running time, and if there's one thing that "Eye of the Beast" doesn't need to be, it's longer. Even as brainless entertainment, this dud falls miserably short.
Timothy Sanders
Wow, I am actually quite impressed with this one. It's nothing amazing, but it was good for what it is. The Beast looked decent as well.
Lanky Man Pat
Our fifth Maneater movie is Eye of the Beast.The monster here is a Giant Squid.Now this seems really cool at first,however,Sy-Fy virtually already did a movie with a Giant Squid in Kraken:Tentacles of the Deep the exact same year.But to be honest,this is the better movie.So at least where getting the better one and not that piece of crap which,honestly,I find to be one of the biggest Sy-Fy original movie disappoints ever.But ignoring Kraken,Eye of the Beast's plot goes like this.People disappear from an island,so some fearless morons go to kill the beast themselves.Ya know,the Giant Squid has,in real life,killed people.Now what if it was bigger and meaner? Does that seem like a good idea? What if it was a bigger and meaner Viper? Wait....Vipers....you know,let's just leave the bigger and meaner monsters to RHI and not attempt to think about "What if it was a..." scenario.Guaranteed RHI will do it.So,this plot is simple,but moronic.But it's to moronic to pass.And it just keeps getting more and more and more moronic until it reaches it's at the edge of the Earth. The acting is awful.The lead actor supplies can't even get a few laughs,but not enough to save this movie from hitting the abyss (no pun intended).James Van Der Beek,who was in Castle in the Sky,a Hayao Miyazaki movie,acts horrendously.Now,the dialogue is actually funny,but it's delivered with absolutely NO effort.Which is disappointing,because this could have been a movie worthy of watching with friends (if you have enough patience).But nope,the acting just has to suck the root.A note to mister Beek,stick to voice acting.I may have never seen any of Miyazaki's movies,even Ponyo,but if it's your best rated (and only fresh) movie,just stick to voice acting and not human acting.Your less human than whatever is in Super 8.Over all,the acting is dismal.Plain and simple. The characters,while the acting is horrible,aren't all that horrible.There developed none the less (even if it's as even as a "straight" line drawn by a baby).Are they good characters? For a Sy-Fy original,yeah.Other than that? No,they aren't,but there good enough to pass.Now,I have problems with them.I still lack remorse,even the tiniest of tiny bits,when there decimated by the Giant Squid.I can only feel an incredibly slight bit of disappointment when a "likable" character perishes.I can only,like in Croc,feel apathy when one dies.No remorse,an incredibly slight be of disappointment,and a whole lot of apathy.Do the math,and it adds up to characters that are developed enough to be slightly passable (but pass none the less),but are unable to make you feel remorse when they die.The nut shell version? It saves it from a a pathetic score of 1. The directing is shaky,but it gets the slip because there underwater (at times) and it is something that you would expect.If it wasn't shaky,I'd wonder what the hell the Giant Squid is doing.Now it isn't AS shaky as other Maneater movies,but it still gets disorienting (sometimes).I will complain that for some stupid ass reason,everything is close up.I know I said it was underwater and so on,but this feels a bit tight.For those of you who are claustrophobic,this movie won't help it at all.But at least it means that we don't feel like the camera is being dragged away by the Giant Squid.There is also crappy lighting that makes it hard to see when it's not being that shaky.But none the less,the directing is a helluva lot better than the other Maneater movies.So I'll let it pass (despite some flaws that are pathetic and feel amateurish). The CGI on the Giant Squid is....crap.I will not accept how lousy and lazy this thing looks.Mega Shark vs. Giant Octopus is the best way to compare it.It's as bad and as lazy looking as in that Asylum movie.Hell,Superman 64 looked better than this Giant Squid! This was made in 2006 and that came out on the Nintendo 64! There is no excuse for the CGI to be this awful! Honestly,this isn't even worthy of being laughed at because this looks like a stuffed,rubber prop you'd get at a prop shop! I'd expect Carrot Top to use this thing! Not the Sy-Fy channel! All I can do is shame the movie until I feel like I done it justice,but all I would be doing is wasting my time I could be using on shamming Gerard Butler's singing! Over all,the computer generated-imagine greater-imagery sucks to root of a red wood! On the plus side,the dialogue is really funny.To bad mister Beek ruined his lines which could have had me fall of the futon laughing until I was here typing up a review for this movie.To add insult to injury (which may just have been literal),the dialogue is also full of lines that seem incredibly obvious.Did I hear that? Yeah,I heard it.It's the sound of my jaw dropping at the sight of your ass asking IF YOU HEARD A GIANT SQUID STRIKE YOUR BOAT! If I was on there,I'd get a shotgun or any form of weaponry.Do not ask if you heard something that,in real life dragged a sailor down to his doom,hit your mother fucking boat! This is to obvious for a flashing billboard to make it more obvious! Thankfully,those moments are interrupted by someone dying.So to sum things up,the dialogue is funny,but ruined by awful acting.If you can ignore the awful acting,soften your fall with pillows. One other thing Eye of the Beast does right is the fact that the stupidity of some of the characters is funny.Like I said with how obvious some of the characters are,there are moments where I get a laugh of how brain dead these fools can be.Doing stuff that seems like it could nab a laugh out of someone.It got a few out of me.Trust me when I say there a million times smarter than the brain dead,stoned off there asses,dumb shits from In The Spider's Web.No,these characters are just stupid enough to get a legitimate laugh out of me more than once.Of course,there are a few times where I find myself dumb founded at how ludicrous some of there plans are.Uh,guys,your not trying to get that Roadrunner.Just a gigantic ass squid.No need to go over kill.Oh well,none the less,the stupidity of the characters is funny and does redeem some of the minor (key word is minor obviously) flaws in the movie. To sum things up,Eye of the Beast is a mess.It's acting sucks,some of the directing is crappy (whatever isn't crappy,is sorta decent),and it's EXTREMELY forgettable.To the point I forgot multiple times that this was after Croc and Grizzly Rage wasn't.However,Eye of the Beast's characters,dialogue,and the characters stupidity is pretty funny and pretty much is able to prevent from a score that I usually give.But other than that,I don't recommend Eye of the Beast.It's extremely flawed and horrible.I give it a 2 out of 10 none the less.But what RHI followed up with is the worst of the Maneater movies.
Chris Skoufis
Eye of the Beast Quotes
There are no approved quotes yet for this movie.
Discussion Forum
Discuss Eye of the Beast on our Movie forum!