Eye of the Devil
(1966)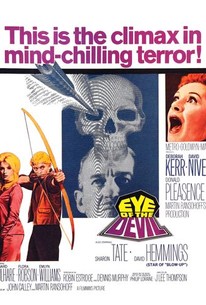 AUDIENCE SCORE
Critic Consensus: No consensus yet.
Movie Info
An unusual, down-beat thriller, reminiscent of The Wicker Man (1973), concerning a nobleman who returns to his ancestral home in France, to carry out an ancient ritual which would mean sacrificing his own life. Deborah Kerr replaced Kim Novak, who was injured during production.
Critic Reviews for Eye of the Devil
Audience Reviews for Eye of the Devil
Okay spooker is missing some important backstory that would make it more compelling. Niven is disengaged in the lead, leaving a slackness to the main thrust of the movie but Deborah Kerr is suitably panicked as the questioning wife. What a supporting cast though! Flora Robson, Edward Mulhare, Emlyn Williams all contribute little bits of color and Donald Pleasance is ideally cast as an ominous presence who keeps popping up his liquid eyes betraying nothing but giving the viewer the creeps nonetheless. David Hemmings has little to do but stare into the distance and give off an unpleasant vibe which he does well while being disturbing in his beauty. Speaking of beauty, this was Sharon Tate's first big role in her regrettably short career and she gets the corresponding introducing credit , man alive was she breathtaking! She gives an approriate performance all glacial looks and dreamy line readings, the part doesn't demand more than that. But the camera loved her and when she's on screen you look at no one else, a vital component of a star, would she have achieved that position-who knows but the ingredients where definitely there. The black & white photography is most evocative and was a wise choice to set the proper tone for the piece. Not a great film by any means but a decent view near Halloween.
½
An overlooked and little known British horror/thriller. The excellent cast is the main thing going for it, including Deborah Kerr, David Niven, David Hemmings and Sharon Tate, who as well as looking great manages to put in a great performance. The story focuses on a French land owner (Niven) who is summoned back to his vineyard due to the crops failing for a thrid year in a row. As much as he tries to prevent his wife and children from following him, they do. It isn't long before his wife (Kerr) starts to notice strange and mysterious things, mostly involving the strange siblings who inhabit the castle, Christian and Odile (Hemmings and Tate). It soon becomes clear that for centuries the family has been involved in Pagan rituals and the time has come for Niven to sacrifice himself. When watching you can't help but be reminded of other superior British horror films, such as Deborah Kerr protecting the children in The Innocents and the pagan rituals of The Wicker Man. Whilst Eye Of The Devil has good things going for it such as atmospheric cineamatography it no doubt has it's flaws. Still with a cast like this you would be silly to pass it by.
Eye of the Devil Quotes
| | |
| --- | --- |
| Alain de Montfaucon: | I want to see Papa. I miss him. |
| Catherine de Montfaucon: | I don't get it. He's never done this before. |
| Jean-Claude Ibert: | He must be asleep. Shh! Don't wake him. |
| | |
| --- | --- |
| Philippe de Montfaucon: | The people of Bellenac are deeply entrenched in ... supestition. |
| Philippe de Montfaucon: | The people of Bellenac are deeply entrenched in... supestition. |