Eyes of Fire
(1983)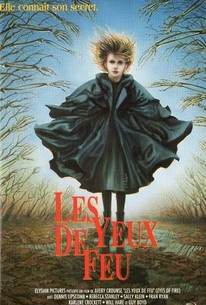 AUDIENCE SCORE
Critic Consensus: No consensus yet.
Movie Info
An interesting diversion for the genre, this stylish but leaden supernatural period piece tells the tale of an 18th-century minister (Dennis Lipscomb) and his flock who are exiled to the wilderness after being accused of witchcraft by the citizens of Dalton's Ferry. The small community settles briefly in an eerie valley in Shawnee territory -- which is also the domain of a powerful demon and his earthen underlings. As horrific apparitions and bizarre events begin to haunt the party in increasing frequency, a young madwoman believed to be a witch brings her own formidable powers to bear against the demonic menace. Good performances and beautiful location cinematography help to create a mood of encroaching doomretentious dialogue, leaden pacing and an overabundance of clunky religious allegory causes the entire project to collapse under its own ponderous weight.
Audience Reviews for Eyes of Fire
The video box is something that intrigued and semi freaked me out as a kid. I found this on video not too long ago and had to pick it up. It's somewhat creepy for its time setting and there are some cool effects. Eyes of Fire is kind of a curiosity and should be viewed in the season of fall.
Rodney Eckrich
½
This dark tale with actors unknown in the US bombed in theatres, but is a very beautiful and haunting work. The horror is love-based, and the natural setting seems to pad the way for Blair Witch Project many years later. Watch it cold, with no review, and remember that this is psychological and mystical, not a typical bloodbath slasher film.
Chrystal Hays
Eyes of Fire [img]http://img.photobucket.com/albums/v51/popicn/Halloween%20website/eyesoffire1.jpg[/img] Directed by Avery Crounse Starring: Dennis Lipscomb, Guy Boyd, and Rebecca Stanley This unjustly overlooked movie, the first directed by Avery Crounse, ranks along with Pumpkinhead as one of the best examples of dark fantasy rooted in pure Americana. A period piece, it's set in the mid-18th century in the American colonies, before there was a United States, and is the tale of settlers encountering the supernatural in the form of a previously unexplored forest's resident evil spirit. Narrated by one of the two young survivors of the weird encounter, it starts with the two being interrogated by the equivalent of district militia regarding the disappearance of their fellow settlers. The story begins with adultery committed by a minister, somewhat hammily played by Dennis Lipscomb, and a settler's wife, resulting in the cuckolded husband taking his children off into the forest where they meet up with a strange girl who shows them much they never knew before about the ways of the land. Crounse gets his setting just right and also does a great job fusing the real with the fantastic--not always an easy thing to do. One of the absolutely critical ingredients in any fantasy film--whether high fantasy, sword and sorcery, dark fantasy or horror--is atmosphere, and in that this movie excels. The brooding forest scenes are superb, making the viewer feel that at any moment the trees could come alive and snatch you up right from where you're standing. Aside from Lipscomb, the other actors are excellent. The momentum of the story is escape from a known evil to an unknown evil and that drives the movie to its strong finish.... When will this awesome movie get released?!?!?
marc Coderre
Eyes of Fire Quotes
There are no approved quotes yet for this movie.
Discussion Forum
Discuss Eyes of Fire on our Movie forum!