Eyes Wide Shut
(1999)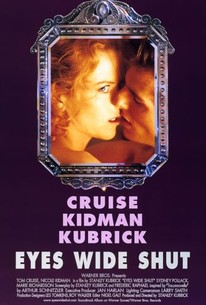 Movie Info
After learning of his wife's flirtatious behavior, Dr. William Harford goes on an odyssey of his own.
News & Interviews for Eyes Wide Shut
Critic Reviews for Eyes Wide Shut
Audience Reviews for Eyes Wide Shut
½
A slow-burning Kubrickian exploration of extramarital sexual desire and jealousy full of symbolism, and it throws us together with the characters in a nightmarish odyssey highlighted by a terrific game of colors using blue and red to suggest menace and unconscious sex impulses.
Carlos Magalhães
Super Reviewer
½
As far as final films go, is there really a better film that Kubrick could have his career end with (due to his death) than this? I don't really think so. This is, like basically every Kubrick film, a challenging, beautiful, and haunting work of art. A ridiculous amount of shots are framed quite literally like you'd see done to a painting in a musuem. This sucker just oozes with craft. It would be a surprise if it didn't, really. I lost track of the number of long takes and tracking there were, but I was also absorbed when I tried to imagine how difficult some of them were to set up and execute, especially given Kubrick's perfectionism. For people who think this movie is only about gratituous nudity and sex, you are wrong, will be disappointed if you watch it solely for that reason. This is a long film that is deliberately (read: slowly) paced, with all of the sex and nudity being done in a very tasteful and artistic manner that also serves as an integral part of the plot and themes. And, just like his other films, this is a film loaded with symbolism, metaphors, and is open to a vast number of interpretations. The music was just phenomenal. It kind of surprised me that there would also be some slight similarities to John Carpenter's score for Halloween. The brief (but appropriate) use of a Chris Isaak song just brought a devious smile to my face, and the classical music that is used is just something that is to be expected- and it works flawlessly. The acting is also quite good (yes, even Cruise for those haters and mockers). I feel like anyone who works with Kubrick is capable of giving an excellent performance- no matter who they are. Is this a perfect film? Well, based on my rating, and for a general audience, I say no. It is long, slow, and rather pretentious. Even though I raved about the music, I'll admit that the repetition of the piano notes can get a bit tedious and overbearing after a while, but at least it's only around in the second half. You need to be in the right frame of mind to watch it, and cannot do so passively. I spent most of the viewing time totally absorbed in it, but then got interrupted and found it hard to get back into, but that's a minor thing. It would probably help to view it at least twice (once again, like other Kubrick films), in order to get the most out of it. There's a lot to ponder over in this film, but the patient viewer will find themself greatly rewarded.
Chris Weber
Super Reviewer
½
Yet another brilliant film directed by one of the best directors ever in Stanley Kubrick. It misses perfection by ever so little, but it is still a worthy film which features an eerie atmosphere, a jarring soundtrack, and some genuinely disturbing and creepy scenes. Although the nudity is indeed plentiful, in this movie it is made to serve an important purpose, which being if you dehumanize one of the closest things two humans can share with one another, then you turn human passions and desires into nothing more than revolting "practices" which almost nobody wants to take a part in. Definitely not for everyone, especially those that can handle a certain amount of sexual content, this is a very graphic movie which was originally rated NC-17 before being edited (the late Kubrick must have rolled over in his grave should he have known) to a hard R.
Dan Schultz
Super Reviewer
Eyes Wide Shut Quotes
| | |
| --- | --- |
| Alice Harford: | If you men only knew. |
| | |
| --- | --- |
| Alice Harford: | If he wanted me, I would give up everything. |
| | |
| --- | --- |
| Milich: | If the good doctor himself should ever want anything again... anything at all... it needn't be a costume. |
| Milich: | If the good doctor himself should ever want anything again, anything at all, it needn't be a costume. |
| | |
| --- | --- |
| Nick Nightingale: | I have seen one or two things in my life but never, never anything like this. |
Discussion Forum
Discuss Eyes Wide Shut on our Movie forum!