Vynález zkázy (The Fabulous World of Jules Verne)(A Deadly Invention)
(1958)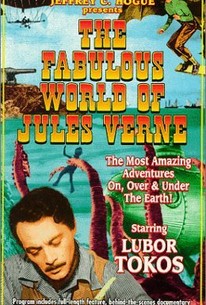 AUDIENCE SCORE
Critic Consensus: No consensus yet.
Vynález zkázy (The Fabulous World of Jules Verne)(A Deadly Invention) Photos
Movie Info
The Czechoslovakia-filmed Fabulous World of Jules Verne is based on the 1896 Verne novel Face the Flag. The story concerns the machinations of evil millionaire Artigas (Miloslav Holub), who plans to use a super-explosive device to conquer the world. Artigas operates from a pirate submarine, wherein he has imprisoned the explosive's inventor, Professor Roche (Arnost Navratil). One of the ships destroyed by the pirate sub includes among its passengers the scientist's daughter Jana (Jana Zatloukalova), who is rescued and spirited away to Artiga's headquarters inside an enormous volcano. Here Jana falls in love with Simon Hart (Lubor Tokos), Roche's assistant, who'd been abducted along with the Professor. Jana and Simon plan to escape the volcano in Artigas' observation balloon. Professor Roche, who foolishly believes that Artigas is a humanitarian, stays behind, but when he discovers Artigas' plans he sets off the explosive himself. The volcano is destroyed as Jana and Simon's balloon floats into the sunset. Fabulous World of Jules Verne is brilliantly filmed in a special process which causes every image on screen to resemble an old-fashioned woodcut engraving, replete with forced-perspective sets and props. The film's deliberately unrealistic visual texture, coupled with the slightly satirical, larger-than-life performances of the cast, make the delightful Fabulous World appear to be a 19th century "futuristic" novel come to life. For reasons best known to the distributor, the American version of this film is introduced by Hugh Downs. ~ Hal Erickson, Rovi
Rating:
NR
Genre:
, , ,
Directed By:
Written By:
In Theaters:
Runtime:
Studio:
Warner Bros. Pictures
Critic Reviews for Vynález zkázy (The Fabulous World of Jules Verne)(A Deadly Invention)
All Critics (1) | Fresh (1) | Rotten (0)
Showing great imagination on a tiny budget Zeman emulates the look of the lithographs of Verne's early editions

Audience Reviews for Vynález zkázy (The Fabulous World of Jules Verne)(A Deadly Invention)
½
On the way to visit his friend Professor Roch(Arnost Navratil) and assist him on a new invention, Simon Hart(Lubor Tokos) enjoys his journey while taking note of all the new wonders of technology. Since that new invention is a deadly new explosive, it should come as no surprise that the two men are kidnapped by the nefarious Count Artigas(Miroslav Holub) and taken to a secret island. "The Fabulous World of Jules Verne" is an entertaining film that is partially animated(through the wonders of 'Mysti-Mation!). This process works for the most part, even though the underwater scenes are a little underwhelming. Even then, the movie conveys as well as possible the rapidly changing world that Verne was experiencing on a daily basis in the 19th century. At the same time, it also anticipates what would come to be known as steampunk.
A brilliant and often times seamless stylistic mix of live action, traditional animation, and stop motion. A Deadly Invention truly does capture the world of Jules Verne.
Todd Anderson
I'll never forget watching this film at the ripe old age of 10 at the local drive in with my grandma and aunt. This was my favorite author with his own really cool movie. Boy that was a long time ago. I have a VHS tape of this film, and would like to buy a DVD of it, but the quality of all the DVD's I seen are no better than the tape I do have. It was a masterpiece of animation/live action created in a format called "Mystimation". The look of this film was intended to be in the same idea as the pen and ink drawings that were present in some versions of Vern's works. I loved it, and I watch it from time to time for the fond memories of a time when your imagination was the special effects of the day. Films the like of this one are gone forever and will never return. The story told by the film isn't as important as the time and place it was viewed. I hope all you Scifi movie folks get to see this treasure at least once.
Thomas Wahl
Vynález zkázy (The Fabulous World of Jules Verne)(A Deadly Invention) Quotes
There are no approved quotes yet for this movie.