Faceless (Los Depredadores de la Noche) (Les Prédateurs de la Nuit)
(1989)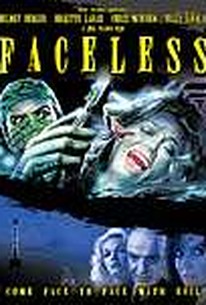 AUDIENCE SCORE
Critic Consensus: No consensus yet.
Faceless (Los Depredadores de la Noche) (Les Prédateurs de la Nuit) Photos
Movie Info
The demented Dr. Flamand (Helmut Berger) and his beautiful but deadly assistant Nathalie (Brigitte Lahaie) lure unsuspecting victims in this horror feature. The doctor uses the young skins of his victims to perform plastic surgery on his disfigured sister. Telly Savalas is Hallen, the New York businessman who hires private detective Sam Morgan (Chris Mitchum) to find his missing fashion model daughter Barbara (Caroline Munro). A sadistic Nazi doctor (Anton Diffring) and a chainsaw/power tool psychosexual tormentor are called in by the devious Dr. Flamand to join in the fun. ~ Dan Pavlides, Rovi
Rating:
NR
Genre:
,
Directed By:
On DVD:
Runtime:
Critic Reviews for Faceless (Los Depredadores de la Noche) (Les Prédateurs de la Nuit)
All Critics (1) | Fresh (1) | Rotten (0)
An insanely sleazy Eurotrash remake of Eyes Without a Face that was quite possibly conceived and produced by a can of hairspray and a kilo of primo cocaine.

Audience Reviews for Faceless (Los Depredadores de la Noche) (Les Prédateurs de la Nuit)
Broke out another Jess Franco film, this one a bit heavier on plot but still nice and sleazy. The main draw for me honestly was Brigitte Lahaie, who is just so damned cute in anything, and definitely seemed game for whatever they threw at her. A mad doctor skinning women to try and save his sister's face, Lahaie acting petulant and petty, Chris Mitchum on the job channeling his father as a private detective - this one is a helluva lot of fun. Recommended.
Bill Bryant
½
Faceless is one of those movies with a great theme, an awesome ending, and a healthy dose of blurring the line between the good guys and the bad guys. The problem? The acting was some of the worst I've ever seen. Especially during the fight scenes. It's too bad, because this could have been a pretty good movie. Pretty good, not great, because there were a few dull scenes. In its defense, even with the horrid acting I was still interested enough to want to see how things turned out. And it did have a few scene that I really enjoyed. Overall, this isn't a movie I'd ever recommend. But don't blame the director, the script-writer, or the actors. Blame the 80's. Everything sucked back then. Luckily, the French have more than redeemed themselves by giving us New French Extremity.
Alex Matarese
Super Reviewer
I think every horror fan out there needs a nice dose of French Horror Sleazy Eurotrash and just about nobody can do that as well as Jess (Jesus) Franco can do it. In Faceless (or Les Predatuers de la Nuit as it's more commonly known) has the demented Dr. Flamand (Helmut Berger) working tirelessly alongside his beautiful yet deadly assistant Nathalie (Brigitte Lahaie) to find a way to restore the face of his disfigured sister. Their constant stream of kidnapping beautiful women, keeping them locked up in hidden dungeons, and viciously butchering them takes an interesting crossroads when they kidnap the daughter (Caroline Williams) of a rich businessman (Terry Salvas) who sends his top PI (Chris Mitchum) to Paris to try and find her. There's also the inclusion of a sadistic Nazi doctor (Anton Diffring) who is the doctor's last hope of using fresh flesh to restore his sister's beauty. Plenty of gore and nudity run about this film's slightly overlong running time. Also, there's a bevy of comedy throughout, both unintentional and intentional...with the intentional still coming off a bit awkward. The movie is "shot in English" but it may as well be a badly-dubbed foreign flick with it's laughable dialog and acting, even though it sports a substantially notable cast of genre icons in it. Definitely a recommendation for hardcore horror enthusiasts only, but if you take this film seriously, you'll be sorely disappointed. Yes, this is a remake of the superior Eyes Without a Face, which makes this film a horrid mess and slap-in-the-face to the original, but if you tune out that fact and pretend you're just watching a bad rip-off, then you'll enjoy it more.
Jason Duron
Faceless (Los Depredadores de la Noche) (Les Prédateurs de la Nuit) Quotes
There are no approved quotes yet for this movie.