Factotum
(2006)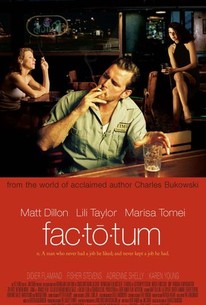 TOMATOMETER
AUDIENCE SCORE
Critic Consensus: Matt Dillon's performance is the highlight of this somewhat slow but fascinating portrayal of Charles Bukowski's alter-ego.
Movie Info
Norwegian director Bent Hamer follows up his quirky and critically acclaimed Kitchen Stories with a heartbreakingly humorous look at the life of depressive writer Hank Chinaski -- the fictional counterpart of real-life author Charles Bukowski. Adapted from Bukowski's 1975 novel of the same name, Hamer's film follows the perpetually unemployed, alcohol-swilling Chinaski (Matt Dillon) as he drifts through the city streets in search of a job that won't come between him and his first love, writing. Consistently rejected by the only publishing house he respects but driven to continue by the knowledge that he could do better than the authors they continually publish, Chinaski soon begins sleeping with fellow barfly Jan (Lili Taylor), a kindred spirit he meets while drowning his sorrows at a local watering hole. When Hank eventually gets abandoned by the only woman with whom he is able to relate, a brief fling with gold-digging floozy Laura (Marisa Tomei) finds him once again falling into a morose state of perpetual drunkenness and unemployment. ~ Jason Buchanan, Rovi
News & Interviews for Factotum
Critic Reviews for Factotum
Audience Reviews for Factotum
I miss the whole point of this movie, and rather then watch it a second time, I rather have pins stuck in my eyeballs, The best part of the movie was the line about the wine nats on the unemployment office. Could Matt Dilon fall any lower. 1 star
Bruce Bruce
Super Reviewer
Deadbeat wannabe writer Henry Chinaski drifts from dead end job to dead end job while trying to hone his craft and find his next drink. Based on a hotch-potch of the works of cult literary figure Charles Bukowski, Factotum is a fair cinematic representation of his work; you get a few chuckles over his reckless abandon in the face of polite society and imagine how liberating it would be to be able to just not give a shit. But at the end of the day, most people who don't give a shit aren't charming, charismatic rebels; they're just assholes. For this reason, Factotum seemed to me to be just a collection of scenes of an asshole getting drunk and losing jobs, and that's it. I didn't warm to him, he didn't show me any insights into the modern world. He was just a self-involved, self-important bore who occasionally quoted Bukowski to justify his own sorry existence, which pretty much sums up this film. If it's comedy drunks you want, Withnail & I, Fear And Loathing, Leaving Las Vegas and Trees Lounge are all far, far better than this self indulgent cinewank.
At no point should you mistake this movie for being good. It is, in fact, a bad movie. It has a ton of inconsistencies and you rarely see 'Chinaski' honing his writing craft. That said, it has a few amusing moments, some decent acting, and it features a topless Marissa Tomei, which allows it to reclaim an additional star.
Factotum Quotes
There are no approved quotes yet for this movie.