Faerie Tale Theatre - Hansel and Gretel
(1982)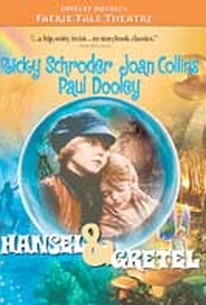 AUDIENCE SCORE
Critic Consensus: No consensus yet.
Movie Info
Rating:
NR
Genre:
Directed By:
Written By:
Runtime:
Critic Reviews for Faerie Tale Theatre - Hansel and Gretel
There are no critic reviews yet for Faerie Tale Theatre - Hansel and Gretel. Keep checking Rotten Tomatoes for updates!
Audience Reviews for Faerie Tale Theatre - Hansel and Gretel
½
[b]Dreamscape. (1983) [/b] [img]http://www.highlightzone.de/dvd/dvd_bilder/dreamscape.jpg[/img] Here's a surprisingly subdued Dennis Quaid in a really fun 80s film. He plays less of a hot shot (see [i]Tough Enough, [/i] [i]InnerSpace[/i], [i]The Right Stuff [/i]and [i]Great Balls of Fire [/i]for the "other" Quaid) and more of an intense dude with a special ability to enter people's dreams and interact with them, very much like what they were doing in the [i]Elm Street[/i] series. He doesn't seem to like having the ability and pretty much has to be forced to use it. It's a fun idea with a few surprises here and there including some nifty stop motion. I can't decide if it's nostalgia driving this or if it's actually a beyond mediocre movie. It reminds me of so many flicks from that time that I love so there's a good feeling throughout. In fact, I plan to pick up [i]Brainstorm[/i] with Natalie Wood and Christopher Walken from the same year after watching this one because I couldn't stop thinking about it. These films ([i]Poltergeist[/i] included) had good creative ideas, appealing casts and incredible low budget visual effects. I was really glad I spent all my mad money on this the other day. 8/10 [img]http://images.rottentomatoes.com/images/user/smilies/fresh.gif[/img] (nostalgia upgrade 10/10!!!!!) [b]Faerie Tale Theatre - Hansel & Gretel. (1982)[/b] [img]http://images.amazon.com/images/P/B00061UHX8.01.LZZZZZZZ.jpg[/img] [size=1]That's the sweet little girl from the sappy-overloaded [i]Savannah smiles[/i] movie. [/size] This chidlren's short feature, a part of Shelley Duvall's series on the Showtime pay channel in the late 1970s and early 1980s, is an unfortunate mixed bag. After the initial shock of the cheapness of the production, it drudges along with the setup for the familiar material establishing the pitful family with the horrible stepmother. Luckily things pick up a little once they start nibbling on "the house". ;) For a children's production, this is surprisingly fateful to the twisted Grimm source material. I eventually started enjoying it when the witch appears. But this version pales greatly even next to the Cannan films movie length version from 1988. That one obviously had much more money behind. I've just learned of a Muppet version from the same year as this one, 1982. My favorite adaption would have to be the one with Shelley Winters and that kid from [i]Oliver![/i] Actually, I was hoping these Faerie Tale Theatre films would approach Henson somehow, but this one doesn't quite get there. I'd need to see more before I'd consider buying this whole set. 7/10 [img]http://images.rottentomatoes.com/images/user/smilies/fresh.gif[/img] [b]Lost in La Mancha. (2002) [/b] [img]http://thecia.com.au/reviews/l/images/lost-in-la-mancha-1.jpg[/img] [size=1]You can see on his face how much of himself he puts in his films. [/size] I know what it's like to be a dreamer. I'm actually surprised Gilliam gets any films made at all because of all the crap you have to go thru to get your thoughts and ideas on film. He has such a unique way of thinking and I believe him when she says this would-be extraordinary film is already made [i]inside his mind[/i]. The way he'll still try to make the film as things are falling apart, his very level-headed right hand man is telling him it's all over, and still Gilliam is there with his funny little laugh, loving what little they got filmed. It's heartwarming, tragic. Just makes me love him more as a director. His comments also indicate how precious time is and the fact that he's getting old and hasn't made nearly the amount of films he'd like to. Hopefully someone he trusts will remind him everything he's doing now is only icing on the cake. He's made a lot of people happy with what he's done already. There's too much I could comment on from this. I particularly thought it was cool when Depp showed up. Almost like everything was instantly better. Another unique individual with great ideas. I was close to shedding tears near the end. Very painful. But the piece at the very end, after the credits, was terrific! 10/10 [img]http://images.rottentomatoes.com/images/user/smilies/fresh.gif[/img] [b]Elf. (2003) [/b] [img]http://www.johndebney.com/projects/elf/cover.jpg[/img] Sort of on the same level of Christmas spirit you'd find in a modern department store. No Christmas magic at all. Only a sprinkling of laughs. Not many likeable characters; just Ferrell and the love interest. Watch Miracle on 34th Street, It's a Wonderful Life or something like that instead. I sort of enjoyed the homages to the Rankin/Bass stop motion stuff. But I'll never watch this again ever. Unless forced by some evil children. 5/10 [img]http://images.rottentomatoes.com/images/user/smilies/rotten.gif[/img]
James Perry
Discussion Forum
Discuss Faerie Tale Theatre - Hansel and Gretel on our Movie forum!