Fairhaven
(2013)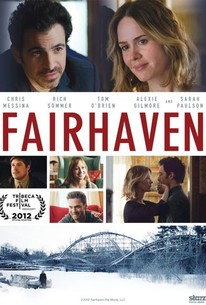 Movie Info
A former high school football star and one time college athlete, Jon has landed back in the place of his youth - Fairhaven - a small fishing village on the Massachusetts coast. Now in his mid thirties, and with the promise of younger days seemingly washed ashore, Jon's vague feelings of dissatisfaction are crystallized by a television interview with his football hero Tom Brady, who proclaims that, even after three super bowl wins, "There's got to be something more than this." (c) Official Site
Rating:
NR
Genre:
,
Directed By:
Written By:
In Theaters:
Runtime:
Studio:
News & Interviews for Fairhaven
Critic Reviews for Fairhaven
Audience Reviews for Fairhaven
One sentence summary: Skip this film unless you like self-important feel bad comedies. Jon, a former high school football star returns home to the small fishing village of Fairhaven, Massachusetts. He was an arrogant, useless jerk in high school, and returns a failed, arrogant, useless jerk. We start with layer upon layer of cliché. Will there be any evolution, or is this just another fouled up, self-regarding 'feel bad comedy'? Dave is back from Arizona to talk to old friends and catch up with his mother. Jon is trying to get into something new, perhaps writing. He arranges to quit his fishing job as soon as he can find a replacement. He's in two kinds of therapy. The obligatory drunken barroom and getting high scenes are just as boring as one might expect. Jon, Dave, and Sam are not any better at it than any one else. Sam has stayed in Fairhaven (as opposed to Jon and Dave), has gotten married, had a daughter, got a divorce, and dealt with the break up. Nobody seems to be any happier than anyone else. The funeral for Dave's father was nicely awkward. The ending was flat, rather like the rest of the film. Scores Cinematography: 10/10 Exceptionally lovely shooting, especially the exteriors. Depth of field is shallow for the interiors to isolate the character to focus on, showing a nice level of control. Framing and color saturation are great. Sound: 8/10 Occasionally the music was blaring. Acting: 4/10 The performances are all too often from the 'smile, show how cool you are' school of non-involvement. Boring, non-engaging. Screenplay: 4/10 Stupid premise, bad execution, boring; not aided by immature actors.
Ed Collins
Fairhaven was brilliantly acted, unpredictable, and leaves you wishes you had more opportunity to follow the characters. Highly recommended!
Maura T
Watching FAIRHAVEN was everything I love about Tom O'Brian's theatrical plays come to life a million times over with all of the elements fitting together: lovely shots, poetic scenery, authentic acting, heartfelt pacing and musical score combined to remind me of what acting coach Wynn Handman would refer to as "a perfect pitch and tone". Tom's character was an endearing, curious, mysterious and fun protagonist. I understand what he means about Tom Brady! I love the story and how the film captures the way that we are all ever unraveling from, entwining in and learning from the events in our lives... how the effects of the "bomb drop" from the parents of Chris Messina's character earlier in his life mirrors so poignantly the effects of the bomb drop of his actions later on. We were riveted and while I knew it would be great, I was so excited and surprised by how great. My boyfriend watched in silence the whole time and when it was over he said, "that was impeccable... perfect". He said he loved it and wants to watch it again. We were both moved. I have been spending more time this past year in my hometown than I have spent in 26 years... I related so much to the relationships, internal and external landscapes and the heartbreaking beauty of watching life expand all of us no matter where we stay or travel to. Movie made with excellence!
Eva Noon
Fairhaven Quotes
There are no approved quotes yet for this movie.
Discussion Forum
Discuss Fairhaven on our Movie forum!