Fairy Tale Killer (Saak meng tung wa)
(2012)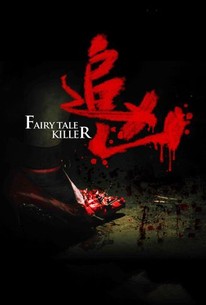 AUDIENCE SCORE
Critic Consensus: No consensus yet.
Fairy Tale Killer (Saak meng tung wa) Photos
Movie Info
One Day, a medium built stammerer, Jun (Wang Bao Qiang) confesses five murders at police station, but he fails to illustrate the details, after long oral examination the police believes Jun is mentally disorder and his mentioned murder cases do not come from the fact.
Critic Reviews for Fairy Tale Killer (Saak meng tung wa)
There are no critic reviews yet for Fairy Tale Killer (Saak meng tung wa). Keep checking Rotten Tomatoes for updates!
Audience Reviews for Fairy Tale Killer (Saak meng tung wa)
This isn't a very good movie at all. First of all the subtitles for the movie are absolutely dreadful. Bad subtitles, much like a bad English dub, can very much affect your enjoyment of a film. The first time I saw Battle Royal, I didn't review it on here because the subtitles were awful and I didn't enjoy watching the movie. At least with this movie, the bad subtitles gave me a good chuckle. There's this scene at the beginning where the chief tells the main character to spend more time on his son. What a fucking pervert! There's also this hilarious moment, during the climax, where the main character's wife, name of both characters escape me, is fearing for her life as the villain has her standing near the edge of a building on the 7th floor. She's understandably scared as she does not know if this maniac is going to let her fall. What does she say when she sees her husband as he comes to save her? She screams out hubby twice. Think about how ridiculous that truly is. She screams out hubby. I realize the poor subtitles are to blame but it makes a "serious" moment into a complete joke. Those are the two worst examples but the entire movie is poorly subtitled. At the same time, I don't really think I'd have enjoyed this movie even if it had halfway decent subtitles. The story's just not that intriguing. They had an interesting angle with the fairy tale-inspired stuff but they don't make much use of it. It's not really that violent of a movie, so there's not much to keep you interested. The story, or the acting, certainly won't. It's just a tragic story about these orphans sticking together through thick and thin, using fairy tales to escape the harsh realities of their life isn't particularly effective or interesting. The film's climax also becomes a Saw ripoff. You have three minutes to choose between saving yourself by drinking the antidote to combat the poison in your body or save your family from a torturous death. Ripped straight from Saw. The orphans themselves have a pretty ridiculous death scene that defies the laws of physics. They're standing in the middle of a circle of fire, a circle of fire that materialized out of nowhere. As if on cue, but it gets worse, or better, depending how you look at it. After the main villain, who's dressed exactly like The Joker without the make-up, confesses the reasons for why he did what he did, the circle of fire, somehow, moves in on the orphans and consumes them in flames. Yes, the fire is a leaving, breathing entity, with the power to move in directions it shouldn't, unless there was a flammable element that would cause it to move in, but there wasn't. If there was, it'd have consumed them right from the start, they would've never been stuck in the middle with enough time to explain their reasoning. Ridiculous and stupid. I didn't like this film, at all. Poor subtitles are one thing, but when you have storytelling THIS bad, the subtitles are the last thing on your mind. Terrible movie, watch The Raid 2 instead.
Jesse Ortega
Super Reviewer
Fairy Tale Killer (Saak meng tung wa) Quotes
There are no approved quotes yet for this movie.