Faithless
(2001)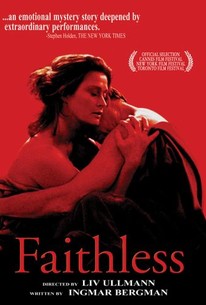 Movie Info
Ingmar Bergman wrote the screenplay for this drama of love, marriage, and infidelity, which was directed by one of his best-known leading ladies, Liv Ullmann. Bergman (Erland Josephson) is an aging filmmaker who invites an actress (Lena Endre) to his office to help him work on a character for an upcoming screenplay. The character, Marianne Volger (also played by Endre), is a well-known actress married to an internationally-successful symphony conductor, Markus (Thomas Hanzon). Marianne and Markus are close friends with David (Krister Henriksson), a filmmaker with a cavalier attitude toward money, career, and life in general. While Markus is away on one of his frequent concert tours, Marianne and David begin having an affair. When Markus finds out about his wife's infidelity, he files for divorce, demanding sole custody of their daughter Isabelle (Michelle Gylemo). Isabelle soon finds herself caught in the middle of an ugly war of wills between her mother and father. Faithless was screened in competition at the 2000 Cannes Film Festival.
Rating:
R (for sexual content, some nudity and language)
Genre:
,
Directed By:
Written By:
In Theaters:
On DVD:
Runtime:
Studio:
Critic Reviews for Faithless
Audience Reviews for Faithless
Ullmann makes a Bergman movie, using his script, actors and his location. A triangular couple relation, including Bergman? himself. Naturally the whole spectre of emotions are blown in your face.
Anders Ask
(** 1/2): [img]http://images.rottentomatoes.com/images/user/icons/icon13.gif[/img] The film is a bit overlong, and I ultimately felt unsatisfied with the end product. I really like the concept of the film (and the cast is good), but I just can't quite recommend it. A near-miss.
TTT C
Script by Ingmar Bergman film directed by Liv Ullman. An Adult film about desire, regret, selfishness. Faithless opens on an island, Faro, where an old man (Erland Josephson), The old man is visited by a character he partly remembers & partly creates, Marianne (Lena Endre, who is tremendous in the very sort of complex role that Ullman used to play so brilliantly Marianne is an actress (is she real or a ghost or dream? Or perhaps she never existed, & the whole event is a fiction.). She's also the nurturing mother of 9-year-old Isabelle (Michelle Gylemo) & contented wife of a world-famous conductor named Markus (Thomas Hanzon). Within minutes, Marianne is telling the old man how her happy life came apart, & though he listens attentively, it appears that he's also anticipating the story she has to tell, as if he knows it all too well. (Is it his story?) One of the only requirements Bergman made of Ullman was that Lena Endra appear in this starring role. She has a great likeness of the younger Ullman. The film revisits Bergman's most well-rehearsed themes loss, guilt, & remorse. The screenplay is based on an incident of infidelity in Bergman's life half a century ago. Faithless runs 2 ½ hours; it is vintage Bergman in its preoccupation with the interior life. Ullman also the shot the film in the relentless close-ups, angry guilt ridden bursts of dialogue & in the long pauses which Bergman is known for. A good deal of the film consists of close-ups of Marianne's tear-stained face as the character deals with her guilt & sorrow over her infidelity, divorce, & the child custody battle. It is really dynamite film making. It is a very intimate film. All of Marianne's conversations with Bergman are done in his actual studio on Faro Island in Sweden. Ullmann (Marianne) is Bergman's former lover, with whom she has a daughter. The quotation at the start of the movie from Botho Strauss is so true & important summarized by me as divorce as a descent into hell & havoc. 5 stars
ld pierce
Faithless Quotes
There are no approved quotes yet for this movie.