Fake Identity
(2009)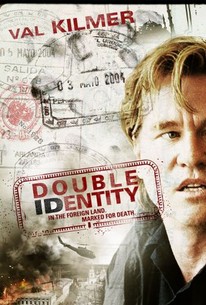 AUDIENCE SCORE
Critic Consensus: No consensus yet.
Movie Info
An American physician must attempts to elude violent mobsters and the British Secret Service after being mistaken for a secret agent while working in Bulgaria. A benevolent physician working for Doctors Beyond Borders, Dr. Nicholas Pinter (Val Kilmer) caring for patients in war-torn Bulgaria when a gang of diamond smugglers misidentify him as a government operative. Pursued by a pair of trigger-happy gangsters, Dr. Pinter escapes certain death with a little help from an elusive beauty named Katherine (Izabella Miko) and the British Secret Service. But his adventure is far from over, because the harder Dr. Pinter works to prove his innocence, the more convinced his enemies become that he's the man they've been searching for.
Rating:
R (for some violence.)
Genre:
,
Directed By:
Written By:
On DVD:
Runtime:
Studio:
First Look Studios
Critic Reviews for Fake Identity
There are no critic reviews yet for Fake Identity. Keep checking Rotten Tomatoes for updates!
Audience Reviews for Fake Identity
Double Identity (Dennis Dimster, 2009) Val Kilmer was once one of Hollywood's most bankable names, appearing in what seemed to be every blockbuster that came out of Hollywood in the late eighties and early nineties, from Top Gun to The Princess Bride to Tombstone and everything in between. But somewhere along the way, something happened, and Kilmer started taking roles that are, shall we say, a little less Hollywood and a little more, well, Moscow Zero and The Thaw and Double Identity. And I will admit, I defended the middle of those. Plot: Kilmer plays an American doctor who's part of a Doctors Without Borders-style organization, going wherever his talents are needed. This often takes him behind what was at one point the iron curtain; his travels start getting noticed by certain government forces, and he ends up being misaken for a famous Eastern Bloc spy after getting caught in the middle of a nasty firefight where he helps a beautiful young woman (Coyote Ugly's Izabella Miko) escape a hail of bullets. Cue generic thriller. To be fair, it's not a bad little film; unlike a number of actors whose career has gone to the dogs, requiring them to take roles like this, Kilmer still has a full set of acting chops, and Miko stands up to him just fine most of the time. One more rewrite with an eye towards originality, or even memorability, would have done this movie an excellent turn. As it stands, though, you will likely have forgotten a great deal about it within ten minutes of it ending. There is nothing of substance here, and that is to the movie's great detriment. **
Robert Beveridge
½
Why Val? Why do you keep going for these roles? Following the path of Wesley Snipes, Steven Seagel, and Cuba Gooding Jr. is not where you want to go. You have the talent and you still show it off in these movies. YOU'RE FUCKING DOC HOLIDAY. YOU WERE IN HEAT!!!!!! Call Michael Mann or Oliver Stone. The story is confusing and you lose interest. I actually ended up forgeting some of the major plot points from the beginning of the movie. They were brought up half way later and I was like "Wait what are they talking about? Oh yeah that guy was killed" Just stay away from it.
Michael Vanderpoel
½
Kilmer plays an American doctor working in Chechnya who becomes mistaken for a secret agent/diamond dealer by the Russian mob. Izabella Miko is the beautiful femme fatale, working both for a British group seeking to control a diamond cartel, and the Bulgarian/Czech people who also want control of the same. The girl bumps into Kilmer, while running from being captured; kiss to shake off her dangerous assailants and that begins a love affair/ crime thriller. Nice pace and the plot twists and turns keep us guessing about each of the characters throughout the film.
Fake Identity Quotes
There are no approved quotes yet for this movie.