Fall Down Dead
(2007)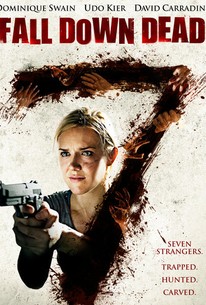 Movie Info
In a city swallowed up by darkness, a group of seven strangers are stalked by a serial killer seeking the one woman who can identify him to the authorities. The lights are out due to rolling blackouts, and most of the locals are cowering in their homes as a homicidal maniac dubbed the Picasso Killer stalks the streets. One night, in a darkened office building, seven strangers find themselves stalked from the shadows. The Picasso Killer is near, and the slaughter won't stop until Christie Wallace is dead. Christie knows the Picasso Killer's true identity, and is she wants to get out of this building alive, she's going to have to fight for her life. Udo Kier, Dominique Swain, and David Carradine star in a thriller from Suburban Nightmare director Jon Keeyes.
Rating:
R (for violence, grisly images, a scene of strong sexuality, some nudity and language)
Genre:
,
Directed By:
Written By:
In Theaters:
On DVD:
Runtime:
Studio:
Critic Reviews for Fall Down Dead
Audience Reviews for Fall Down Dead
½
The synopsis is this: In a big American city, the serial killer The Picasso Killer is terrorizing the dwellers and the police department does not have lead to find him. The bartender Christie Wallace dreams on moving to the countryside with her six year-old daughter Zoe to have a peaceful life far from the violence of the city. Late night of Christmas Eve, Christie leaves the Tides Bar where she works and walks back home. In an alley, she sees a woman dying covered on blood and The Picasso Killer sees Christie and chases her. She runs to a commercial building where the night watchman Wade is reluctant to open the door and does not give credit to Christie. She calls the police and Detectives Stefan Kerchek and Lawrence Kellog attend the call. When Christie tells that she can recognize the infamous serial-killer, there is a blackout, the phones are dead and the detectives cannot call the precinct. They lock the building waiting for reinforcement but sooner they find that The Picasso Killer has broken in the building and their lives are in danger. The other night I could not get sleepy! No matter how many boring infomercials I watched or sedatives I took I just could not get my mind and eyes to the point of groggy. Luckily I pay a ridiculous price for cable and receive on demand as well for over exaggerated premium channels. The one upside to these little additives of life are the off chance that something I have not seen may cross by the screen. Well lo and behold finely after what seemed like hours of surfing I found something that intrigued me. "Fall Down Dead" - a movie about a serial killer who found artistic vision in carving and displaying beautiful women in an attempt to create his masterpiece and life's achievement. I only recognized one person in this film- well two actually. David Carradine and Udo Kier. Now Udo is like awesome to me because he played my all time favorite vamp in Andy Warhol's "Dracula". I can still close my eyes and see him fall to the floor jerking and writhing while trying to lick up virgin blood from the floor of a french château. This film - "Fall Down Dead" was actually pretty good. The characters were not exaggerated nor over written. Sometimes they can come off cartoonish or not so believable. David Carradine did somewhat but luckily his characters presence was short. The heroin played by Dominique Araine, who is a single mother living with her young daughter and a female roommate accidentally walks up on one of the Picasso Killers scenes while he is still doing his thing. He immediately sees her as the woman of his true inspiration and chases her into an office building during the city's rolling blackouts. She has it rough! First a bum she gives coffee too because it is Christmas Eve and she fills sorry for him tries to steal her purse after she gets off work then a serial killer takes a liking to her and hunts her down. Now this would make a perfect Christmas film for future holidays because it does happen on Christmas Eve. Anyway, lady has to fight for her life because the killer gets into the building with her, two cops that were supposed to be on a drug bust but decided to call it a night when the call came in about a killing, the security guard played by Carradine-who is like the worlds oldest slacker rent a cop, and three employees of the buildings business. So one by one the killer without much ado or dialog takes out the sheeple . The deaths are gory and in your face. The Picasso Killer is only artistic when it comes to his muses in this pic. The others just get slash-o-rama treatment familiar in any horror film. This film is a great slasher and serial killer style flick reminiscent of many 80's styled films like "New York Ripper". This film is a good thriller based film with descent acting and slasher styled gore so I say watch it and enjoy!
rick russ
I must admit, I was wildly disappointed in this film. Accompanying a poor performance from its melodramatic heroine (Swain), the dialogue feels as though it were written for an after-school special rather than a horror movie. Mediocre casting (with the one exception of Kier, who seems to have done all he could with a shoddy role), boring characters & a plot that has been burrowed into the ground - I wouldn't recommend this film unless you intend to lower your IQ points... It's not even bad in a funny way.
molly o'blivion
Discussion Forum
Discuss Fall Down Dead on our Movie forum!