The Fall of Fujimori
(2006)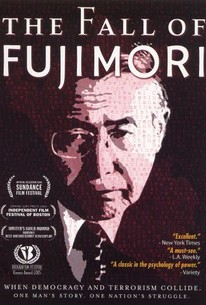 The Fall of Fujimori Photos
Movie Info
In a nation besieged by bloody insurgents and appalling poverty appears a humble candidate who vows to fight for the poor and disenfranchised. Riding a crest of popular support, this political unknown storms into the elections and wins the Presidency. After being sworn in, the new President declares an all out War On Terror, which soon culminates in the capture of public enemy number one. The country is Peru. The President is Alberto Fujimori. The year is 1992. The Fall of Fujimori is a character-driven, political thriller exploring the volatile events that defined Fujimori's decade-long reign: His meteoric rise from son of poor Japanese immigrants to the presidency; his fateful relationship with the shadowy and Machiavellian Vladimiro Montesinos; his "self-coup" that dissolved overnight both Congress and the Judiciary; and the bloody and dramatic Japanese Embassy hostage crisis.Since fleeing Peru in disgrace four years ago, Alberto Fujimori has remained virtually silent about the sensational end of his controversial presidency. Until now.Last January, Fujimori agreed to the first in-depth interview since his exile. The result is one of the most intimate and shocking looks at a modern dictator ever captured on film. Director Ellen Perry interweaves personal, up-close interviews with the exiled leader along with never-before-seen, exclusive footage from his regime. At the center of Fujimori's presidency are his controversial tactics in the war on terror: hooded judges ruling from behind one-way mirrors, secret military tribunals, and the alleged use of torture and death squads. His extreme measures bring success, resulting in the severe disruption of the two deadliest rebel groups, the Shining Path and the MRTA. But these victories come at a severe cost. Rocked by growing corruption scandals, Fujimori flees to Japan (the land of his ancestors) and, from a Tokyo hotel, faxes in his letter of resignation. In 2003, Interpol places Alberto Fujimori on its Most Wanted List on charges of corruption, kidnapping and murder. Undeterred by the indictments against him, Fujimori enjoys celebrity status in Japan, where he patiently plots his return to Peru - and a run for the presidency in 2006. An unforgettable portrait of the precarious balance between justice and peace, The Fall of Fujimori is a riveting, cautionary tale of one man's - and one nation's - War on Terror. -- © Official Site
Rating:
NR
Genre:
,
Directed By:
Written By:
In Theaters:
On DVD:
Runtime:
Studio:
Critic Reviews for The Fall of Fujimori
Audience Reviews for The Fall of Fujimori
EXCELLENT documentary. I'm from Peru, and although I didn't live there past the age of three and was really young during Fujimori's terms, I do remember visiting many times during this, including once when the Japanese ambassador's residence, which was then located by my great-grandmother's house, underwent a bombing, so it brought back a lot. Held my interest and actually gave me a better understanding of what happened.
Mariana Arevalo
½
If you want to see the adage "absolute power corrupts absolutely" play out in a real-life situation, you'll want to see this flick. Here's a guy whose intentions were more honorable than his methods.
Craig Burgess
Very informative. Fair analysis. The country was gripped by terrorism, so he used "extraordinary" means.
EJ Passeos
The Fall of Fujimori Quotes
There are no approved quotes yet for this movie.
Discussion Forum
Discuss The Fall of Fujimori on our Movie forum!