Fallen Angels
(2007)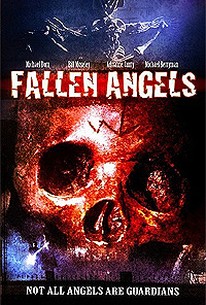 AUDIENCE SCORE
Critic Consensus: No consensus yet.
Fallen Angels Photos
Movie Info
When a turn of the century prison reformatory is slated for demolition, a grisly discovery is made. Hidden deep underground beneath the west cell block is a sub-basement structure that has not been entered in 100 years. Inside are the skeletal remains of several brutally slain children. As a CSI team arrives at the prison, an even more disturbing discovery is made that will eventually unveil a legion of seven demons and their even more chilling origins: each demon is responsible for one of the seven deadly sins. Seven deadly sins...Seven deadly demons...Seven more deadly ways to die...
Rating:
NR
Genre:
,
Directed By:
Written By:
In Theaters:
On DVD:
Runtime:
Studio:
Watch it now
Cast
Critic Reviews for Fallen Angels
There are no critic reviews yet for Fallen Angels. Keep checking Rotten Tomatoes for updates!
Audience Reviews for Fallen Angels
Fallen Angels (Jeff Thomas, 2006) Relatively silly haunted prison flick that garnered minor attention for featuring a couple of name stars, Michael Dorn (Star Trek: The Next Generation), Bill Moseley (House of 1000 Corpses), and the late Kevin McCarthy (the original Invasion of the Body Snatchers). None of them, of course, has a really prominent role here; that would have broken the movie's shoestring budget. As would have hiring a competent editor, it would seem. Plot: a long-abandoned prison slated for demolition turns out to have been the site of a number of child murders many years ago. We eventually discover (given that this info is in the IMDB description written by the writer/director himself, I'm assuming it's not a spoiler) that the murderers are the seven fallen angels of the title, each of whom has dominion over one of the deadly sins. (Just once, aspiring directors, I'd like to see this plot with the twist that each of the fallen angels is responsible for one of the seven cardinal virtues, which seem far more sinful to me...) And since their turf has been disturbed... you can guess the rest, I've no doubt. This movie is chock-full-I mean painfully chock-full-of should-have-been-awesome cameos. Add to the names above Michael Berryman (the original The Hills Have Eyes), Ruth Buzzi(!!), Reggie Bannister (the Phantasm franchise), WWE diva Christie Hemme (guess whch fallen angel she plays), Kane Hodder, and a host of others. Thomas obviously set out to use what budget he had to pay relatively famous people to appear in bit parts here, rather than using it to hire folks to whip the script into shape, come up with interesting cinematography, hiring continuity consultants, or anything else that would have taken all those cameos and put them into a coherent, interesting, well-paced, tense, or otherwise watchable movie. Only worth checking out if you're a rabid fan of one or more of those who appear in small parts here, and maybe not even then. **
Robert Beveridge
½
[color=#333333][font='Times New Roman'][color=black][size=4]2006 US Director: Jeff Thomas[/size][/color][/font][/color] [color=#333333][font='Times New Roman'][color=black][size=4]Score: 7[/size][/color][/font][/color] [color=#333333][font='Times New Roman'][color=black][size=4] I admit that after reading the synopsis for this film I had it written off as a standard gore fest, borderline exploitation job. I did. So, it came as a surprise to me when I watched it and found an interesting plot that takes a few turns as it winds ominously towards its conclusion. There is plenty of materiel for you gore hounds and there is also a good solid story with some freaky atmosphere. The effects that bring the demons to life and portray their brutal killings are good. The other thing I enjoyed was the great cast. Michael Dorn and Bill Mosely are great. I actually chuckled when Ruth Buzzi made an appearance and then I sat amazed as she really did some fantastic acting in her scene as a psychic medium. The music was pretty neutral, nothing special about the soundtrack. This is one horror fans should check out, at least one time.[/size][/color][/font][/color] [color=#333333][font='Times New Roman'][size=4][color=black] [/color][/size][/font][/color] [color=#333333][font='Times New Roman'][size=4][color=black]Notes: XV-HL Suggested Age: 16+[/color][/size][/font][/color]
Todd S
Discussion Forum
Discuss Fallen Angels on our Movie forum!
News & Features