Fallen (Falling)
(2006)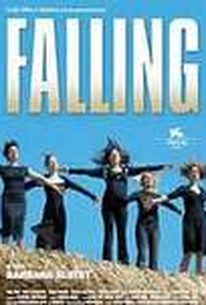 Movie Info
The death of a schoolteacher leads to a reunion between a handful of close friends in this drama from writer and director Barbara Albert. Five longtime friends return to the town where they grew up for the first time since they were teenagers in order to pay their respects to a teacher who had a major impact on their lives. However, fate has taken the five women in very different directions since they left school. Carmen (Kathrin Resetarits) has become a working actress, Alex (Ursula Strauss) is a clerk at an unemployment office, Brigitte (Birgit Minichmayr) works as a schoolteacher, Nina (Nina Proll) is out of a job and anticipating the birth a baby is two months, and Nicole (Gabriela Hegedus) has fallen into a life of crime and has been given a furlough from prison to attend the funeral, with her 12-year-old daughter Daphne (Ina Strand) in tow. As the women look back at the possibilities of their youth, they must also consider the circumstances which led them where they are today, and the bonds of friendship which still hold them together despite the physical distance between them. Falling was screened in competition at the 2006 Venice Film Festival. ~ Mark Deming, Rovi
Critic Reviews for Fallen (Falling)
Audience Reviews for Fallen (Falling)
A difficult movie to understand, as the action moves from a funeral, to a roadside fair, to a wedding reception, to a bar, and back to somebody's house, without any sense of purpose to the meanderings. Meanwhile the viewer is left to untangle the various relationships and understand what these five women have in common. Eventually, the lights do begin to come on, but by that time one has forgotten what the questions were. That these five women share a common bond is the one sure thing. Figuring out what forged that bond is the challenge, should you decide to accept it. Mildly entertaining, but no deep philosophical answers to be found here. These women are friends, at different points in their lives, moving in different directions, and will probably not be able to find much common ground for very much longer. But for this one night, they are united in a quest to rekindle what they had in school. Whether that was high school or college is never revealed. Given some of the revelations, one hopes it was college.
Mark Abell
Super Reviewer
Fallen (Falling) Quotes
There are no approved quotes yet for this movie.