Falling for Grace
(2007)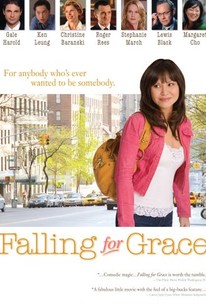 AUDIENCE SCORE
Critic Consensus: No consensus yet.
Movie Info
Fay Ann Lee's modern spin on the story of Cinderella, Falling For Grace, stars Fay Ann Lee as a Chinese-American who dreams of living among the social elites in New York City. One day she is mistaken for an heiress and is invited to a posh party where she falls in love with a lawyer. She hides her true identity from him, and he himself has a few secrets he keeps from the woman. Falling For Grace had its world premiere at the 2006 Tribeca Film Festival (where it screened under the title East Broadway).
Critic Reviews for Falling for Grace
Audience Reviews for Falling for Grace
One line summary: Comedy of errors; needs better acting and a tighter script. Cinematography: 7/10 Way too much soft focus. Sound: 7/10 Fine for the English speakers. The incidental music is cloying. Acting: 5/10 This is a mixed bag, to say the least. BD Wong, Lewis Black, Christine Baranski, Ato Essandoh, Roger Rees, and Margaret Cho were fine. Christine Baranski was the best; her discussion with Andrew Jr about how he had to marry Kay was one of the most genuine moments in the film. On the other hand, Fay Ann Lee, Gale Harold, Stephanie March, and Ken Leung were much less satisfying, with Gale Harold being the absolute worst. Screenplay: 4/10 There were too many cliches from the romantic comedy field. I have nothing against cliches; even the oldest can be funny if done right. There were only a few recognizable attempts at humor. I found myself thinking that I should be laughing at this, but I did not laugh once.
Ed Collins
This is supposed to be a retelling of Cinderella- in fact, the main character is apparently named after the Chinese Cinderella. But it just doesn't work. It's not well-rounded enough, it's full of every romantic comedy cliche ever, and there's nothing to keep you interested.
Amanda Hendsbee
½
Sweet. A typical girl meets rich guy Cinderalla story. The main characters were good, but some of the supporting cast were pretty sad. But, as love stories go, this one is certainly pleasant enough.
Cynthia S.
Super Reviewer
Falling for Grace Quotes
There are no approved quotes yet for this movie.
Discussion Forum
Discuss Falling for Grace on our Movie forum!