Falling Overnight
(2012)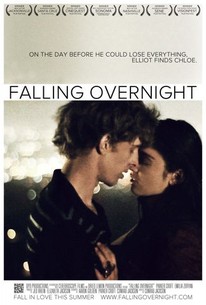 Movie Info
Falling Overnight tells the story of twenty-two year old Elliot Carson on the day before he has risky surgery to remove a brain tumor. Facing what could be his last night, Elliot's path intersects with Chloe Webb, a young photographer who invites him to her art show. Elliot welcomes the distraction and as the night descends, Chloe takes him on an intimate and exhilarating journey through the city. But as morning approaches, and Chloe learns of Elliot's condition, the magic of the evening unravels, and they must together face the uncertainty of Elliot's future. -- (C) Official Site
Rating:
NR
Genre:
,
Directed By:
Written By:
In Theaters:
On DVD:
Runtime:
Studio:
Critic Reviews for Falling Overnight
Audience Reviews for Falling Overnight
Completely bare bones, "Falling Overnight" is a love story using the streets of Los Angeles as a backdrop. Presented as completely natural, it embodies a quality of independent film-making that projects every day life in the most interesting of ways. Despite this ability to appear organic, the presentation often falls short of actually connecting, delivered too haphazard and with too much freestyle. What helps the film come off natural is the fact that the leading actors are fairly new to acting, having appeared in just a few things prior to this film. They have a vulnerability and nakedness to the lens that leaves them wide open, appearing sincere and genuinely filled with emotion. However, seasoned actors have proven far better in roles like this, for example Anton Yelchin and Felicity Jones have a much more impressive showing in "Like Crazy", another authentic love story that strictly focuses on the evolution of love with a realistic and unabashed way. Rising above the more melodramatic fare in the independent drama genre, the distinct plot helps carry the film along in memorable fashion. Our lead, Elliot Carson (Parker Croft) prepares to have brain surgery in the morning, a risky operation that could lead to the worst possible outcome. Keeping his parents at a distance and having no real friends to speak of, Elliot uses a chance encounter with the adorable Chloe Webb (Emilia Zoryan) as a welcomed distraction. Traveling between an art show to house party to biking through the L.A. nightlife, the characters form a connection, with the innocence of new love briefly eclipsing Elliot's pending condition. Yet even with that innocence, these young characters project a maturity that lets them deal with these complicated issues in their own adult ways. The chemistry is undeniable between Croff and Zoryan, playing off each other as if there is no script, with the dialogue coming off very spontaneous and authentic. The only problem I had with the film spawns from that spontaneity, which often results in strange sidebars that have no real connection to the plot and only land in the film to either pad the runtime or to profess a reality that either the writer, director, or actor feels strongly about. Coming off too real, or coming off as if the director simply turned on a camera and let life play out in front of it, is not what an audience wants to see from a fictional piece. Most of the scenes in the film do feel natural and do still hold a quality of cinematic enjoyment, watching this young love blossom despite the pending doom that hangs over one of the characters. Emilia Zoryan, in particular, commands her delivery and holds a poise that is much sturdier than her counterparts. Sincerity fills the film, and nothing brings this out more than the music throughout, especially captured by my favorite moment, as the birthday party disperses to a tunnel concert where the artist Emperor X is performing a song called "Addison Acceh" which he strums and screams beautifully. This moment made the film for me, and years from now, when I remember this film, it will be this small scene that comes to mind. With the ability to evoke emotion with very little effort, this little drama works just fine as a low budget, independent love story. However, having witnessed so many other films from small-time directors accomplish the same level of emotion with even more brilliance and truly stand out performances, it is hard to say that "Falling Overnight" is a complete success. But for what it is, the film captures a sentiment and is a respectable first feature from director Conrad Jackson, especially considering his involvement as executive producer on the wretched 2009 surf drama "The Outside".
Christopher Haskell
Super Reviewer
A few nights ago had an unfortunate privilege of watching "Falling Overnight". Not exactly sure how it made it into the top 10 of my Netflix queue, but my guess is that I read an article about it getting 9 awards from various film festivals. Two things I have concluded from this experience. One. When any movie's plot has the slightest possibility of belonging to the "mumblecore" genre make sure to read a few critical reviews PRIOR to watching it. If the term "mumblecore" is used in any of them stay the fuck away! Two. I need to give up on movies easier. Being a huge film buff I tend to stick with a movie even when it's quite obvious in the first 15 minutes that it's absolute garbage. Somehow I keep hoping that it's going to get better. The first and last rule of "mumblecore" is that it never does. The premise of the movie is that a twenty-something super dorky looking male who was diagnosed with a potentially fatal disease meets a beautiful twenty-something woman, they fall in love and spend a day together. Sounds like it could be interesting, but what the premise doesn't include is that these two are incredibly boring people who have absolutely nothing of consequence to say to each other. They don't talk about movies, politics, college, traveling, music, families or anything else of any value. Their whole interaction consists of completely inane subjects and they seem to be too cool to even pronounce words in a comprehensible way. At one point I tried turning on the subtitles to make out what the fuck they were saying, but Netflix did not have them available for this excuse of a movie (which all hearing impaired people should be thankful for). After watching it I found out that the main character was also one of the writers and producers. Now it made sense why the film was so unrealistic. It was his and every dorky man's fantasy. Just by showing up and existing he somehow got a very attractive girl to be so interested in him that she did all the work pursuing him. There isn't any point in the movie where he does ANYTHING to gain her interest (possibly with an exception of showing up at her art show). He mumbles about nothing and acts pathetic the entire time and we all know that this is the way to win the heart of a gorgeous young woman, don't we? Neither one of them displays much emotion until the end and overall the film, which was shooting for sympathy, made me want his fatal decease to be infectious because neither one of these two, (or the people they hung out with, for that matter) were gonna contribute anything to the world. The only reason I can think of why this film is rated highly on Netfix is because other hipsters (read excruciatingly boring, entirely useless people who at the same time think they're better than everyone) can identify with these characters. The pretentiousness of the film is what got me the most. The makers clearly think it's about something deep when it's about nothing at all. The whole script could've fit on a napkin ("let's have two twenty-somethings schlep around and mumble utter nonsense for a day"). I could've made a more interesting film by following a homeless guy with a camcorder.
000 000
Falling Overnight Quotes
There are no approved quotes yet for this movie.
Discussion Forum
Discuss Falling Overnight on our Movie forum!