Familiar Ground
(2011)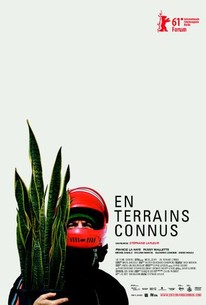 Movie Info
Maryse and her husband are desperate to sell a backhoe sitting abandoned in their suburban yard. Her brother, Benoit, is trapped in endless adolescence, sharing their childhood home with their invalid father. Benoit is enamored with a single mom named Nathalie, and he's hoping to finally grow up by living with her... but Nathalie's son does not approve. A serious accident at the factory where Maryse works, a strange series of coincidences, and the arrival of a man claiming to come from the future launch Maryse and Benoit on a life-changing road trip. Following up his acclaimed feature film "Continental, A Film Without Guns," filmmaker Stéphane Lafleur once again brings us an ensemble of compelling characters, in a story where the ordinary and the fantastic collide.
Rating:
NR
Genre:
,
Directed By:
Written By:
Box Office:
$43,037.00
Runtime:
Studio:
Contre-allee
Critic Reviews for Familiar Ground
Audience Reviews for Familiar Ground
½
This is one of the few films I saw at the LA Film Festival and if it weren't for "Winnie the Pooh" I would say this was the best film I saw. I was happy when it won the award for best narrative feature because it really deserved it. The film follows the lives of a brother and a sister who are a in a bit of rut in their lives. The brother can't seem to get his relationship right and the sister is having marital problems. The viewer gets the sense that the two never spend much time together and aren't very close. It really adds to the film because it makes the second half of the film very enjoyable. The film was very well directed and not a single scene was wasted. Almost ever scene in the movie served a purpose. I think I liked this a lot because it's my type of film. It's a drama with a nice blend of dead pan humor. There are some hilarious scenes in this movie and those scenes worked well for the movie and kept it from getting too serious. Every actor in this film does a great job carrying the film. It's an actor's film and to see these actors together, especially the brother and sister, was a treat because they all work well together. In the end, I was very happy I got the chance to see this wonderful film because it's a showcase of great independent filmmaking.
Vincent Coia
Familiar Ground Quotes
There are no approved quotes yet for this movie.